When is the best time to visit Central America?
The best time to travel to
Central America
is during the dry season, from
December to April
. During these months, the region is generally rain-free, and you can make the most of your trip, whether that means
wildlife encounters
in
Costa Rica
,
snorkeling
in the
Belize
Barrier Reef, or marveling at millennia-old
archaeological sites
across the region. Prices tend to rise, though, so backpackers on a budget will want to visit during the low season instead.  
Thanks to a warm, tropical climate, there's not really a bad season for visiting the region. However, rainfall is likely between May and November. If outdoor activities are a priority, you'll prefer the sunnier half of the year. Some activities like surfing and
rafting
, peak during the rainy season, though. Ultimately, the best time to go to Central America will depend on your itinerary.
At a Glance
Dry Season (December to April)
Driest Months: January, February, and March
Best For: Outdoor activities, snorkeling, diving, hiking, cruising
Expect: Higher prices, high tourism season (especially during Holy Week), occasional rainfall  
Wet Season (May to November)
Rainiest Months: September and October
Best For: Sea turtle watching, surfing, rafting, great deals on hotels and tours, fewer tourists
Expect: Muddier conditions, more frequent rainfall, some hotels are closed during the low season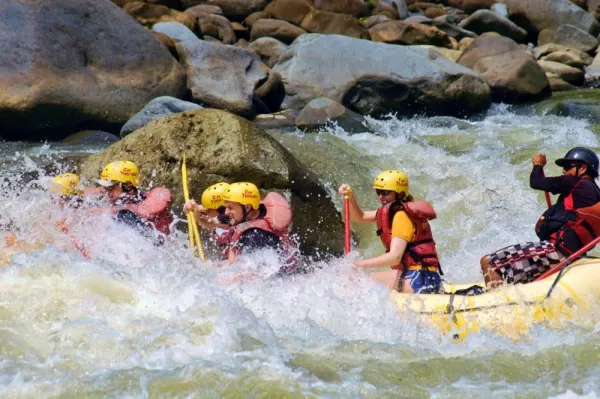 When to go to each Central American country
Belize
We recommend visiting Belize in the dry season from December to May, when clear skies and sunshine deliver prime conditions for
kayaking
,
hiking
,
wildlife viewing
, and
seeing the Mayan ruins
. Scuba divers and snorkelers exploring the Barrier Reef or the Great Blue Hole will want to visit between April and June for the best visibility in the water. The rainiest months in Belize are August, September, and October, but a small window known as the "little dry season" in early August offers a short dry spell for sightseeing.  
Costa Rica
The high season in Costa Rica falls on the dry season from December to April, with January and February especially ideal for sunbathing at the beach and
wildlife viewing
. Turtle nesting season at Tortuguero National Park runs between July and August, while surfing is best on the Pacific coast during the wet season from May to November. Costa Rica's tropical climate means rainfall is possible all year round, but it's heaviest in September and October.  
El Salvador
The drier, sunnier months from November to April are a good time to travel to El Salvador. December sees the country at its most stunning, with the landscapes bursting in vibrant foliage straight after the rainy season. However, a few activities are better suited for the wet season, including seeing sea turtles nest at Jiquilisco Bay and surfing at El Tunco Beach and other surf spots in El Salvador.  
Guatemala
Although the consistently pleasant climate makes this Central American country a good destination all year round, the dry season from November to April is the best time to visit Guatemala. During these months, blue skies and sunshine are perfect for viewing the country's Mayan ruins and natural spectacles, Lake Atitlán and Semuc Champey.    
Mexico
Visit Mexico between the dry months of December and April for peak sightseeing opportunities.
Whale watching
in Baja California is best from January to March, while spring break partiers take over Cancun in March and April. On the other hand, August, September, and October are typically the wettest stretch in Mexico, so if you're looking for a sunny vacation at the beach, it's best to skip these months.    
Honduras
Similar to the rest of Central America, the high season in Honduras is the dry season from December and April. It's driest and most pleasant during December, January, and February. Expect hotter and more humid weather starting May, which is also when whale sharks pop up around Bay Islands until they leave in September. We recommend avoiding the peak hurricane season from August, but October and November usually see the most storms.  
Nicaragua
Visit Nicaragua between November and April, a pleasant stretch known as the country's dry season. Bright days are expected, with plenty of festivals to celebrate, including the lively Palo de Mayo in May. Even the earlier months of the rainy season are a fantastic time to travel to Nicaragua, although travelers are advised to avoid the heaviest rains in September and October.     
Panama
The best time to go to Panama is during the dry season between January and April when there's barely any rain and excellent visibility for scuba diving and
snorkeling
. Flower festivals and carnival celebrations add to the allure of visiting Panama in the earlier months of the year. Rain becomes more frequent starting in May, but stormy weather peaks from September to November. Expect scattered rain showers year-round in Panama's Caribbean side, including Bocas del Toro and San Blas Islands.
Maximize your experience cruising to this part of the world. If you have any questions about the best time to travel to Central America and things to do in the region, don't hesitate to contact our
Adventure Life travel experts
for assistance.