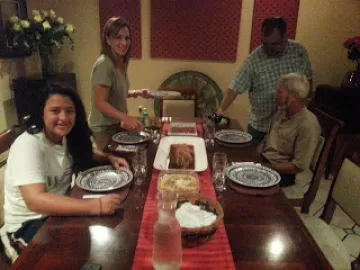 Our teeth are now all glued in and the bike parts came from Guatemala last night and is being repaired, so we are ready to get going at 6 am tomorrow. Have been here for a week and feel like we have over stayed, we know we have but they are such a fantastic family and make you feel at home. We have been spoiled with the exquisite cooking of Fernanda's meals and Mario driving us around relentlessly to get parts. Mario's grandfather was a famous El Salvadorian painter, Valero Lecha and has the house decorated with his art and complemented with Fernanda's interior decorating . Have been out to a few restaurants with them and Nelson and they know how to have a good time with lots of laughs, hard to believe the place is so dangerous.
October 19, 2014
EL SALVADOR TO HONDURAS TO NICARAGUA
Mario Fernanda and Ismail rode us out of town at 6am, poor Tom didn't even have coffee. Left us near the border and off we went on our own, Honduras border a nightmare of paperwork and expensive $110 to get bike in. Roads are the worst yet , slow going due to potholes and dogs and donkey carts. Got to Nicaraguan border and another 2 hour, they were perplexed at a South African passport and a Montana drivers license. Took forever and got done at 6pm and pitch dark and 80 km to go . Then I discover we are at the wrong border , way south so that was a shocker to say the least. So headed south to Chinandega in the dark and raining yet again. Was a horrible potholed road with plenty of cows and police blocks, but had no choice. On arrival at the hotel , once again we were told that we must not drive at night and the road we had just ridden was a real dangerous one with false police blocks where they would rob you dry. So we have been very lucky I guess but they say Nicaragua is safer........ Headed for Managua this morning about 110 km away and met up with George who was waiting for us at the Uno Petrol station just before Managua. He took us through the city to an active volcano on the outskirts of Managua which was pretty impressive. He then escorted us to Grenada which was the old Capital and it is a beautiful old town on a huge lake, where we had some cold ones with George. he bid us farewell and then found a room and checked out town at night.