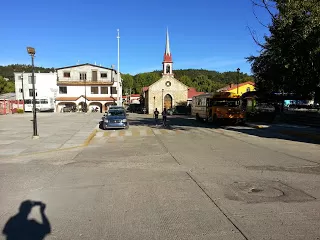 Tom rose at sparrow fart to go hunt down a cup of coffee , which is his morning ritual. I packed up my stuff and loaded up for the trip to the border for our paper work and found Tom having breakfast, cause he loves to eat as well. Left Creel at 9 am headed for Ojibwa / Presidio border crossing with Texas and arrived at 4 pm . Had some amazing scenery and one stretch ran for 13 miles dead nuts straight . There are so many dam stray dogs around would be a Koreans dream or nightmare. One chased after me on the highway and came out of nowhere, luckily Tom dodged it. While waiting at the border a Federal Policia man came and chatted to me about our bikes etc. and then left and then appeared again telling me I must let my wife know everyday what route we are taking and then left again. Then he came back and told me under no circumstances to travel at night , never ever especially the road we have to head out on tomorrow and I kinda smirked I guess cause then he said it was no laughing matter, and then he left. Next minute he is back in his full police outfit with sub machine gun and handgun and gives me his name and ph no. and says to call him if I have any trouble in Mexico and that he is now my friend , he was such a nice guy and genuine, and then Captain Jose Ochoa left for the final time in his truck on patrol for 12 hours. Got my personal permit to enter Mexico and then got the bike papers , so now we are kinda all legal I believe. Went through an army roadblock en route and made us empty our panniers and then sent us down the road but did not check any paperwork, luckily. So tomorrow after Tom has fueled up with coffee we will leave here at 6:30 for Ciudad Jimenez where we will hook up with the rest of the gang, at a huge hotel just as you leave the town, at noon. One guys huge is another guys small so hope I recognize it between the stray dogs and donkey carts running amok......
Monday, October 6, 2014
ZACATECA
Tom woke up at six only to find out it was actually 5 am cause of the time zone, so we loaded up and he found some coffee next door and a great breakfast. Could not leave cause it was still dark, not even the Mexican I was chatting with would leave until first light. Actually found the Big Hotel and the guys pulled in 30 minutes later and off we went. Holy shit they drive fast but you have to so you don't have to drive at night. Toll roads all the way and then at the last one Mario lost his wallet with all his paperwork and license, much problemo. After 840 km we arrived in Zacateca just after sunset at this fancy hotel, they even supply shampoo and a gizmo to polish your shoes, it's spectacular built over a bullfighting ring from the 1800's. Went at a good clip today and tomorrow have a 700 km trip in store to god knows where. Coming down the spine of Mexico they call it......