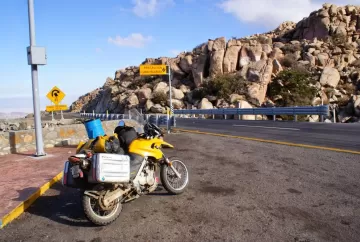 We all had breakfast together which included in the $70 a night. I bid all the dudes farewell and I was the first to leave unfortunately because I was hoping one of them would show me which road to take north, cause they all had GPS.
Fortunately I took the right road and ended up at the VALLE DE LA TRINIDAD where I fueled up. Continued north on MEX 3 and was back on asphalt, then was lucky enough to see a tiny sigh for CONSTITUCION NATION PARK and then headed north for EL HONBO VIA LA HOERTA. Was a fun road and with the recent rains made it very interesting. Took about 3 hours and there was nobody on the road, but did come across 3 Mexicans on horses who where dressed to the nines and each one had a rifle in a scabbard and a necklace of shotguns shells over their shoulders. I pulled up to them and asked them where the hell I was, and luckily I was on the right road and only had 35 min to go to EL HONGO. Was a great road for a bike, would hate to do it in a car, I then headed west on Highway 2 to Mexicali border.
Got to LA RUMOROSA which is at 4140ft. and went down the most spectacular pass for 13 miles, you could see the valley below forever, it was all rock, massive boulder type rock was very impressive and well worth seeing, I stopped 3 times just to take it all in.
Ended up in Mexicali at 3.30 and crossed the border only to find out I had to go to the other border 20 minutes up the road, in order to get my bike deposit ($300.) back. So off I went got my money and left Mexico again and then ended the US again and head for Pal Desert. Arriving at my friend's house at 6pm to a nice dinner and bed.