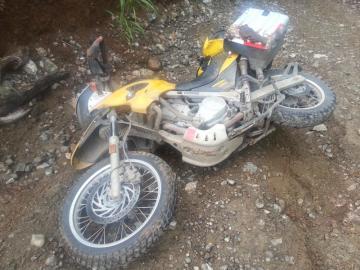 I left at 5:4 am where there was a shorter road to Liberia which I was advised not to take, so I took it ,like a dumb ass.
Was a knurly rocky washed out road and it took me down. Was a steep uphill and I hit a donga and fell off. Got it upright only to fall over on the other side. Was battling to pick it up but managed some how, got on it and tried to freewheel downhill and fell off again but now the bikes wheels were perpendicular to the road but on the uphill side. No ways I could lift it, I was screwed and my panniers are screwed up now . After waiting for someone to arrive, no one did so wrestled with it and got it up and it tipped over trapping my leg momentarily but was now facing downhill and was an easier lift and I free wheeled down going forward safely. I was exhausted and just drenched in sweat but happy to be out of there and back on the long road to Liberia, maybe I will heed the advice from others now on.
Stopped and had my last traditional Costa Rican breakfast with my two new buddies that sat with me and then of course asked me for a dollar and then upped it to two as I was reaching for one. Any how he said he would pray for me cause it is very dangerous on a motto.
Stopped in Liberia McDonald's to check to see if Tom had called which he had not. Took an hour to the border which only took an hour and forty fie minutes to cross , did it on my own without a runner.
They have another stop at the border now since last week for Ebola. So when they see I am from South Africa they are amazed cause I am white and that I may have Ebola cause I am from Africa and quizzed me for ages.
Arrived in San Juan del Sur at
2 pm
at our lavish Elizabeth Hotel and Tom's bike was not outside , so obviously he is not here and tried asking at the border but that was fruitless cause no one speaks English there, sign language is the only way.
Got my same luxury room on the second floor and Elizabeth is stunned that Tom is not with me and says a quick prey.
Went for a swim and am going to wash my gear cause it just reeks of my body odor and this mornings work out did not help the cause. Still no word from Tom and so will wait here in case I have to go back for him and not get too far ahead.
While sucking on a Tona Tom called , which was about
nine thirty
and he had just arrived in El Salvador , took five hours to cross the border and that was with runner and it's dark here at
five thirty
. You have to be at the border no later than
2 pm
or you will be driving in the dark and our luck is going to run out eventually and the more stories you hear the scarier the more real it gets, don't want to end up in three garbage bags all chopped up like the poor guy from NY.
So Tom is going to head up on his own does not want to wait for me, as I sit down here waiting for him. Oh well , Mexico is my biggest worry cause the cities are so huge and to navigate through them is brutal even with a gps , the signage is almost non existent, even coming down with the gang we had trouble. Guess I will have to get some good maps and polish up on my Spanish in a hurry if I am ever to make it through the belly of the beast, Mexico City !!!
Onward and Upward.