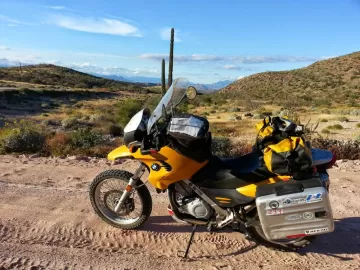 Finally I had to leave Cabo cause you could become an alcoholic staying there any longer. My liver needs a rest and am sure Rob is sick of me reminding him of the evil deeds he has done to me.
I mounted the yellow beast at
7:30 am
for an easy first days ride north. Changed my route as I approached the turn off for Loretta and headed up there and then on to Mulege which was a 439 mile ride.
Could not find a decent place to stay, had gotten use to the luxuries of our hotel in Cabo and was tough to go back into a flea pit that quickly.
I was chatting with a cyclist asking him about accommodation and he invited me down to where he was staying, in a shack by the beach that Hurricane Odeile had destroyed. So finally got to use my camping gear for the first time. Omar is a young chap that is cycling 10 000 km around Mexico in six months, which is absolutely remarkable for me cause the roads are so dangerous and narrow in Baja and he even mentioned that when the big 18 wheelers come by they almost blow him off the road.
What's even more crazy is that their is this Scotsman that arrived today in town, that is running from Canada to Tierra del Fieugo which is the southern most point of South America. It has taken him three months so far and he runs 40 km a day pushing his cart !