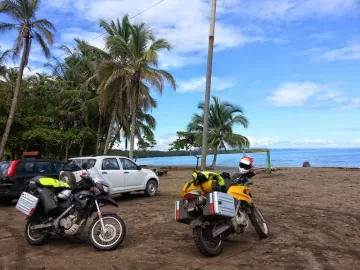 Left Panama City at
8 am
, leaving our friend Carlos from Venezuela who has become a Panamanian, and all it costs is $2400 including the lawyers fee's. Venezuela makes the rest of Central America look like a safe place. He said it is so dangerous there for any one, in Caracas they average 65 murders on the weekend and told us never to go there. Will have to head to Columbia Falls then.
Headed for Port Chiriqui which is on the Atlantic Coast and basically a shithole. Was a great road through the mountains, especially if you were a good biker. When I arrived I realized we had to leave and head up to the next town at the border which was an hour an half away and arrived in the darkness of night for a change at Changuinola . Got another fine hotel and we're up early in the morning to get to the border. I had 3 cups of amazing coffee at the supermarket which was better than anything star backs makes .
and only 45 cents.
The border crossing is real tiny and was a breeze to cross only took an hour and fifteen and we were in Costa Rica on the Atlantic Ocean, I think.
This is the home of Chiquita Bananas ! Went to Port Viejo which is a tourist town with nice beaches and we drove to the end of the road where we parked off for awhile. I played some soccer with the kids on the beach and Tom patrolled town and charmed the ladies at his coffee café. I went for a quick swim and we then headed to Limon which is another huge port and then 107 km to the capital San Jose which took 3 hours cause there are just hundreds of lorries with containers heading back and forth, slow going . Found a hostal where we were the oldest guys there and a unisex dorm, why, why, why ? The bathroom was a dandy an architectural masterpiece worth the hefty price ! Hopefully when I get old I learn from this, but I doubt it. After the Quinta Real life will never be the same.............