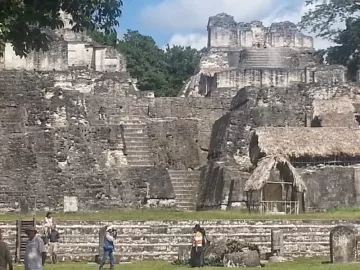 Went to the Mayan ruins with Kelvin a nd Marie was a perfect day we there wise but then the Mayan gods cast an evil spell on me and I was I'll for the next 3 days.
I am already a day behind for meeting Charmain so could not stay and recuperate for a day. Was a nasty day on the bike with a th robbing head and snotty nose and sneezing in the helmet, plus I had to cross the border.
Made it to Palanque for the night where my stomach turned on me.
Then rode 750 km to Puebla for the night and was lucky to find a room and what a dandy it was !
Left at 6 am still dark but feeling a lot better and drove around Mexico City to Leon and then past Gaudlajara to Tipec which is on the Pacific Coast, for the night and made up some time.
Departed Tipec at 5 am and headed for Topolobampo, 640 km north where I can get the ferry to La Paz at midnight and arrive at 7 am and then a short drive to Cabo where Charmain supposedly is.
I can't wait to have a nice little holiday there with Charmain and see an old friend/foe for his 69th birthday , my timing could not have been any better.
Have lost 15 lbs , not that you can notice it but hopefully Charmain can cook me some decent food again and bulk up for the last leg up Baja.