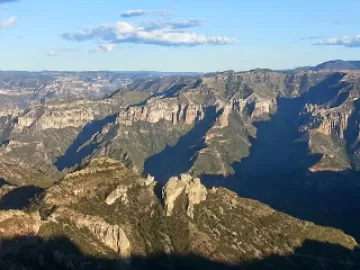 Well we were waved through the Mexican border at San Luis and off we went, what a mistake. Nothing but desert, stopped at Puerto Pensacola for lunch which is on the ocean. Then headed N back to US border then S on 2 and only made Sant Anafranil the night where we found a lovely motel......... Left a little late on Wednesday which bit us in the ass, and by now my ass was sore. Proceed on 15 S to Hermosa lol and then E on 16 which was the wind is road I have ever been on could only go 25 mph, took forever but was spectacular scenery. Darkness came and we were screwed, still had 96 km to go , so we went for it after being told not to ever drive at night. It worked out fine and we arrived in Creel at 10:30 a long 15 hours.
Saturday, October 4, 2014
CREEL MEXICO
Creel is a tiny town and 40 km away from Copper Canyon where the BMW meet is. So you have to drive there everyday , but the Canyon is spectacular and I went down the zip line longest in the world I am told again! We come to find out that we did not get the Mexican paperwork at the border and if they stop us they can confiscate the bike, so now we have to go back to the border and start over and maybe get it right this time, but I doubt it. I am ready to risk it but probably not worth it cause there are many checkpoints on the roads. Plus my lovely wife did not give me the registration for my bike ........ The Mexicans are the friendliest people I have ever come across it truly is amazing, I don't know where all these bad guys are ??? They must be somewhere cause the police are armed to the teeth and drive around in big Ford trucks with a huge gun mounted on the back . So tomorrow off to Presidio we go, we just can't get started. How would a dumb South African know all this when they wave you through the border.......