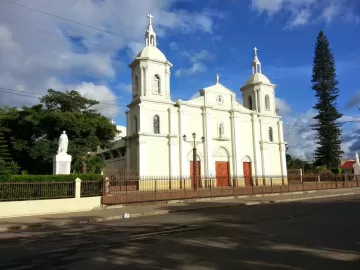 Left San Juan del Sur early smelling like a rose, all my gear nice and clean. Went to Grenada for breakfast and decided to go to Esteli for the night instead of Leon. Drove up to Tipitapi and then on to Madagalpa and through the mountains to Esteli . Stayed at Lunar Hostel which was pretty nice and comfortable.
Left the Lunar at
5:45 am
to get to San Salvador before night fall, hopefully. was at the border at
7 am
and had to pay $35 again to the Hondurans for my bike and then they wanted to charge me $25 cause I was from SA and didn't have yellow fever shots, which I have, after much protest they gave my money back and was told to go and it only took an hour and a half to get through.
Did not have a map of Honduras so was a little tricky but found the El Salvador I 'am
at border which took two and half hours but no charges whatsoever. then had to bolt for San Salvador which is three hours away. The road is a maze off patches and potholes with some stray dogs and cattle to add to the excitement.
Made it to the capital at dusk and ended up at Good Price Nelsons house. Went to Marios for dinner and laughter where we met their Canadian friends who are doing a world tour.