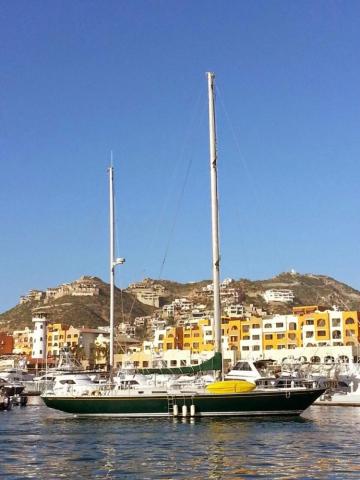 I thought Cabo was a lot closer to La Paz and ended up running out of fuel on the highway 24 km outside Cabo. Three people stopped to help and they gave me some gas and finally rolled into Cabo. Am still feeling kinda sick but have a beautiful place overlooking the harbour. Found Charmain relaxing at the pool of course , I had an incredible shower and laid on the bed and passed out. Have been sleeping non stop, don't know what's wrong with me but just fall asleep all the time .
Rob had a big 68th birthday bash which was a lot of fun and then food was delicious, which his neighbor Sally slaved all day cooking Rob's favorite meal. Had way to many laughs and drinks and stuffed myself cause hadn't seen such good food for weeks, am sick of eating pollo.
The water is so warm and clear and the snorkeling is unbelievable. I still have them sleeping sickness and stomach issues.
Had 28 Harleys show up at the hotel and had come down Baja on a tour. One guy came up to me cause he thought he knew me, so I played along with Charlie , and he has ridden the entire length of Africa and does a bunch of tours from Cape Town . I asked him about Baja etc. and then bid him farewell, only to find out the next day it was Charlie Boorman I was yakking with !