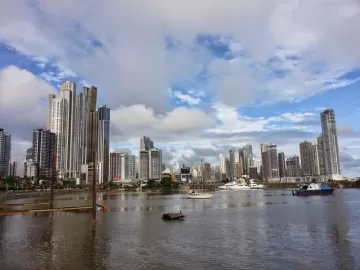 Left Santa go late cause my battery died and had to find a place to charge it on a
Sunday
. The speed limit is 100 kph and they actually obey it cause there are a lot of cops on the road. It's the rainy season and it rains cats and dogs everyday, was bucketing down and we had to pull off and wait it out for an hour and a half. Arrived in Panama City at five and a guy drove us to the hostel thankfully , people are so helpful and friendly everywhere we go. The room is huge like 500 sq.ft. So we're able to dry all our stuff . Went down to jap jap for a great bite to eat.
I was up and gone before Tom awoke this morning which was a first. Took the underground to the bus station and ended up on a chicken bus which was quite an experience to go to the canal. What an operation it is moving those ships , just over a million ships in a hundred years, and they are building a new one cause the Americans screwed up building it in feet and inches instead of the metric measurements.
I walked downtown and along the shoreline and caught the bus back to somewhere and wondered aimlessly back and found my way to the hostel.
Leave for Columbia
tomorrow
. .....