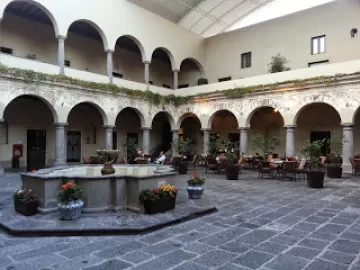 Left Zacatecas at 11 am after a great breakfast, Tom walked downtown and found a Starbucks and was really chuffed. Quinto Real was outstanding, so much so we booked into the one in Puebla for tonight if we make it there. Got going and lost Ban Ban only to find him on the road broken down. By the time we turned around to where he was, he was gone, so we headed on to Puebla without him. Nelson went to Mexico City and then it was just the three of us. Arrived after dark , checked in and went to the bar and then Ban Ban appeared still pissed that we left him behind. It turns out that he went into the garage and when we came back for him none of us saw him and assumed he left and was in front of us. His hydraulic clutch is not working and battled in the towns with the gears, the traffic is unbelievable in the cities and to not have a clutch...... So tomorrow we have to go to the BMW garage and get it sorted. Was a long 650 km. and with the worst traffic so far and road conditions. You could be in Africa, not much different except for the amount of vehicles and a lot more hazardous. Puebla is an old city 1800's and is beautiful and clean with great food. So tomorrow we have to leave early cause it is 790km to the next place and then the following day will get into Guatemala.
Thursday, October 9, 2014
PUEBLA TO TUXTLA GUTIERREZ
Left a little late to the BMW dealer but got clutch sorted out. Left at noon and belted down the highway to Tuxtla Gutierrez which was 790 km.away, so needless to say we broke the cardinal rule : : Don't drive at night. Was not pleasant going down a pass at night for 2 hours ..Nelson happen to arrive at the same time from Mexico City.