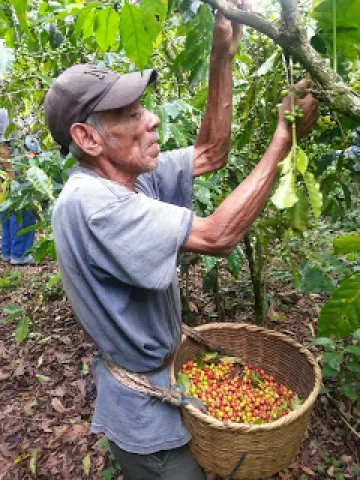 Our first day in San Salvador was most enjoyable, we went and had lunch with Nelson's parents at their home. Had chicken and rice and then desert and great conversation, they advised us on all the safety issues and then his Mum said that she is going to pray for us, that scared me more than anything else. We then went to the coffee plantation they own and gave us a tour, was very interesting as they were harvesting at the time. His Dad drove us in his Hummer and what a ride it was , glad to be buckled into the back seat , they have an interesting way of driving here. We then went to Mario's house for a feast which ended at 3 am with lots of laughter and whiskey. Went down to the beach for a tasty fish meal which is only 40 km away and then the following day went again by bike through the mountains to another beach for lunch with another 3 motor biker riders.
October 15, 2014
CROWNED IN SAN SALVADOR
We were invited to dinner at Ismail's restaurant which is on the volcano mountain and over looks San Salvador, beautiful setting. Am eating poppas and my dang tooth breaks off , so have to go have a crown put in. The next morning after Tom had coffee his crown he had gotten just two weeks ago fell out. What's going on, anyhow off to the dentist I went and got my tooth fixed a whopping $150 for a crown ! Tom came with to see if they could glue his tooth back on but we got separated and when I got back to the house 3 hours later he was not there. Mario and Fernanda freaked out and Mario was really worried and said this was not good. The crime here is a huge issue and he was really concerned which got me really worried , cause I figured he was lost out there and how the hell are we ever going to find him? The plan was to call me or me him but three hours had passed and no phone call ....... So we went to look for him and found him down the road at the gas station having a muffin and coffee !!!!! We were so relieved to find him, it's like losing a child in a mall. He had a gps and he said he was just hanging out passing time cause he thought I was going to be gone for four hours so was in no hurry to get back.
Now his bike has a leak and needs fixing so we can't leave tomorrow cause there are no parts in town and will take 30 days to arrive. So the one chap that works here is taking the bus to Guatemala City and back tomorrow to get the part and then install it the following day and then we will leave the next day which will be Friday. Last night just got in bed and a 7.4 earthquake hit, so went on to the balcony and saw the house moving for 26 seconds , was quite something. I think Tom is a little deaf and may have to get a collection going and get him a hearing aid cause I think he hears me and then he does the opposite, quite funny but hard to communicate sometimes, well actually most times.