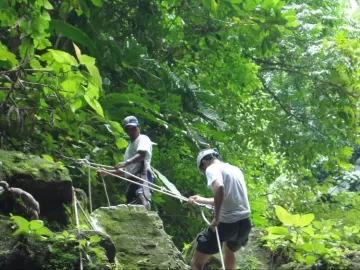 Today's flight went much better than yesterday's. Once we landed it was on to Customs and Immigration. The entire process went pretty smoothly. I think people should always expect to wait in line at customs. It is just inevitable.
After immigration, we headed outside to look for our Adventure Life representative who would take us to the hotel. They were waiting outside past all of the other people holding signs near the telephones. The sign said Adventure Life and had our names on it.
We met Josue and Vanessa from our office in San Jose. I enjoyed visiting with Vanessa during our drive to the hotel. It takes about 30 minutes to get to the hotel. It went by so fast however because there is so much to look at.
The Hotel LeBergerac looks smaller than the brochure but it is very charming and nice. The hotel staff was very pleasant and helpful. They recommended a nice Argentina restaurant down the street called Donde Don Carlos. After walking about 1/2 hour, we decided to stop at this other restaurant we found because we couldn't find the other one. Turns out the one where we ate is the one the hotel recommended. They had good food and it was reasonably priced.
Then we had about an hour to rest before our San Jose office came to get us so I could meet all the people we work with. They took me to their office and gave me the tour. It is very similar to our office here in the states in that it has a lot of people crammed into a small area. It is nice because then you know that everyone who works there, truly wants to be there and truly gets along … just the same as our office.
All of the people are so great. It was so awesome to finally meet the girls face to face. Here I work with them everyday and chat with them online and via email everyday and had no clue what they looked like. It was like meeting all my co-workers. And Fabio, the owner, is so terrific. I was really excited to meet him because he always does so much for Adventure Life.
We sat in their break room and had coffee and visited a while. Then to my surprise, they brought out a birthday cake for me. It was such a nice surprise. I didn't think I would really get anything for my birthday so to have a candle and cake was so neat. I also really appreciated that they all stayed past their long work day to help me celebrate. Most of them had an hour bus ride still tonight before they even got home. So I felt very special and much honored that they wanted to help me celebrate.
Once we returned back to the hotel, we checked in with the family on the internet so they new we were there safely. Then we both were kind of hungry (snacky hungry is what we call it). We decided to check out the French restaurant located in the hotel. It is a very nice restaurant but I can see how the cuisine might be a little fancy for people who have just traveled all day and maybe just want something simple. We just had an appetizer of smoked salmon and that was perfect to tide us over until morning.