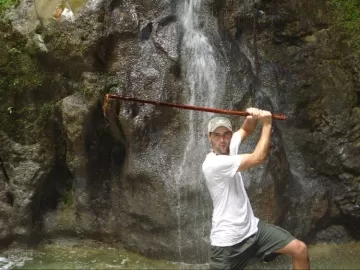 Last night there was another phenomenal thunderstorm. This one seemed worst than the one the previous night. I actually had enough courage to sit on our porch and watch it. This took a lot of guts for me because the lightening was darting across the sky. I was sure we were going to get hit.
Today we are headed to Boquete. I am excited for the next destination. I haven't planned anything for our time in Boquete so it will be nice and relaxing.
We take the boat back to the EcoLodge boat dock that we took the first day. We tried to spot more dolphins along the way. We actually get to see a mother and her baby surface. This was pretty cool. As soon as the mother sensed us following her, her and baby split.
Chalito our driver for the journey to Boquete is right on time. I try to interact with him and practice my Spanish, however after speaking English for so many days at Tranquilo Bay, it seems my Spanish speaking skills have left me.
The trip to Boquete takes about 3 hours. The road is through the mountains which makes the trip very beautiful. The only drawback is that it is a very windy road and about an hour into the drive, I start to feel a little car sick. We stopped for about a half hour and that is a welcomed break to get some fresh air and stretch our legs.
The town of Boquete is beautiful. It is a very plush mountain town. It reminds me of some of the small mountain towns in Montana only Boquete has rain instead of snow.
Our accommodations are wonderful. We get our own private apartment complete with kitchen, TV, and dinning room table. The shower is big here as well.
We decide to go check out the town and grab a bite to eat. We ate at this little cafe that actually looked pretty dingy. I was a little nervous to eat here but we really didn't want to look for another place to eat. Besides there were a lot of locals so we figured it must be okay to eat there. The food was actually pretty good.
After lunch we decided to find an internet cafe to connect with the people back home. We also wanted to let our friends and family know the big news about the wedding and send pictures of the big day.
The rest of the evening we just relax in our room. It is nice to have some time to ourselves and to not have anything planned.