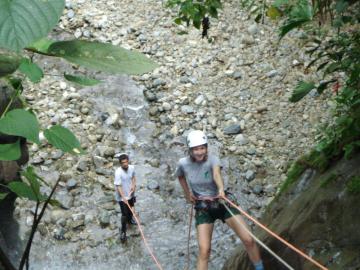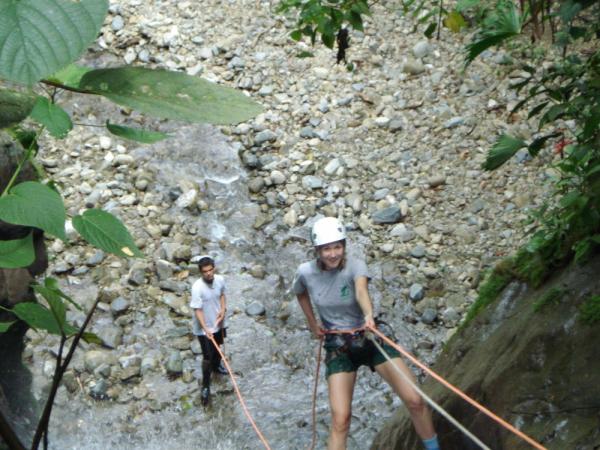 Today is my birthday. It is weird to be in the jungle celebrating a birthday. This morning the ladies that make the food, made a coffee cake to help celebrate my birthday. They even included a candle and everyone sang 'Happy Birthday'. Definitely a unique experience.
After breakfast it is time for us to head to the horse stalls. I was so excited to go horseback riding today. The funny thing is, that my grandpa owns a farm and I am from Montana, and the only time I ride horses, is when I am on vacation in Costa Rica.
We took a 3 hour horseback ride through the farm. We listen to Jurgen explain what the farm is doing and what they are doing to better the environment. It was very interesting. I felt very safe on my horse. I felt like we were making the horses work pretty hard as they had to go up hills some of the time. My horse was sweating pretty well. But then again, they also seem to like having someone ride them.
On our way back to the lodge, we went up some pretty steep and muddy hills. I watched with hesitation as most of the group ascended the hills. I was the second to last to go. The person right before me did not make it. His horse started to slide and both horse and man ended up tipping over. The man hit is head on a rock in the creek. It was such a good thing he was wearing a helmet. I felt so helpless watching the entire thing happen. I didn't dismount because I didn't know what I could do. Jurgen was behind me so he dismounted and helped the young man steady himself. You could tell his horse and my horse were both shaken up. I was so glad to see the man was okay. All I kept thinking the rest of the way back was what if that had been me. I could've easily harmed the baby. It was a very scary experience. However, the man recovered and everything ended up being okay. Thank goodness!
This evening we had a presentation at dinner about Selva Bananito, and the other things Jurgen and his crew do. It was another relaxing evening. While we were at dinner the ladies at the lodge decorated our room for our honeymoon. When we got back to our room there were palms, candles and flowers all over the room. It was beautiful. The crew at Selva Bananito has truly made our time here special.