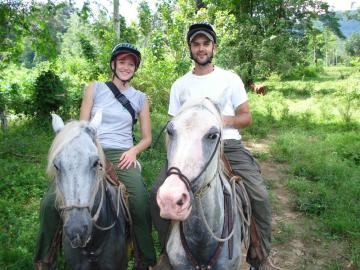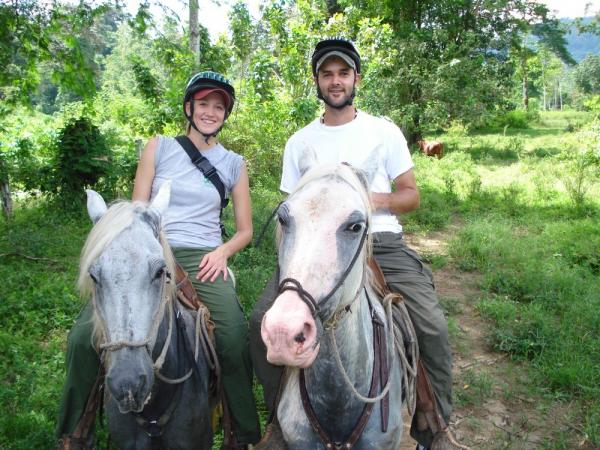 Today was kind of a frustrating day. We had a pick up scheduled for 8:30 to head to Panama. So we made sure we were up in time to get ready and have breakfast.
By 9:00, our driver was still not there. The hotel knew we were waiting for someone to pick us up. After watching us sit for a half hour, the hotel offered to call Costa Rica Reps for us. I talked to Vanessa and she said that the driver had called and said his SUV had broken down and that he wouldn't be there until about 10:30 (2 hours later than he was suppose to be there). Trying to be understanding and flexible we decided to take advantage of the extra time. We just walked down to the beach and watched the surfers for awhile.
When the driver arrived, he was very apologetic and we continued on our way. The drive to the Panama border is about an hour and a half. We were on the road a half hour/45 minutes, when the vehicle breaks down again. We were in middle of nowhere and had zero cell phone service. By this point, my patience is running short. We sat and waited on the side of the road for about an hour while the driver tried to fix the car. Kurt and I really couldn't help much so we just sat in the car and waited for it to be fixed. I was actually surprised by both of our attitudes. We knew there was nothing we could do so we tried to make the best of the situation.
The driver finally fixed the car and we were on our way. Because we were so late getting started and then broke down for about an hour, we were really behind schedule. The driver felt very badly about all of the delays so he drove like a mad man to the border. Luckily the roads are better heading to the border than they are heading to Puerto Viejo. The turns in the road and sometimes large pot holes still made the drive a little difficult however.
Finally, we arrived at the Panama border. The border is pretty chaotic. There are lots of people coming across from Panama and also going to Panama. When we get out of the vehicle, we are swormed with people who want to carry our bags across for us for a small fee. Jim, the owner of Tranquilo Bay, met us as soon as we stepped out of the car. I was relieved to see him. I didn't want to be hassled during the crossing. Thankfully, Costa Rica reps had called Jim to alert him of our hectic morning and that we were running late.
The border crossing is a rickety old bridge over a river. It is kind of need to feel like you are actually "crossing" a border. It makes it more real that you have to cross the bridge to get into Panama.
Once across the bridge, we have to go into the passport office so they can stamp us in. then we have to go to another office to purchase our tourist card. After that is purchased, we have to go back to the passport office to show them that we have purchased the card and they can stamp the card as well.
Then we are on the road again. To get to the boat dock is going to be about an hour drive. As we continue on our way, we come across yet another obstacle. Right before the bridge to cross the Changanola river, they have dug a huge hole in the middle of the road . So we wait yet again in a cramped vehicle for the hole to be filled in so we can cross the bridge. This delay took about 45 minutes. I guess that is just our luck today.
When we arrive at the boat dock, we meet the owners of the dock and a small EcoLodge which they are just started. They are Americans from Florida who retired in Panama and decided to start a lodge.
The boat ride to Bocas Town beautiful. I am so excited to be on the water. We listen to Jim and Jay (owners of Tranquilo Bay) explain the area and how they built Tranquilo Bay from the ground up.
When we arrive in Bocas Town, they are able to pull right up to the Bocas del Toro Hotel. A lot of the business and restaurants in Bocas town are right on the water and have their own boat docks. We bid farwell to Jim and Jay and arrange our pick up time for tomorrow.
When we get to our room, we are thrilled to find out we have received the best room in the hotel. We are on the very top floor in a room that faces the water. Our balcony is the length of the room and over looks the water as well. It is beautiful.
After such a rough start to the day, we realize we are hungry. We decide to take a walk through town and find a place to eat. We end up eating a this neat little restaurant called Flip flops. We decide to eat out on the deck that is on the water. The entire patio is covered in sand. It feels like we are sitting at beach cafe, very cool! The food is decent. They make really good Pina Colodas.
I decided that it would be a good idea to check out the other hotel that we use in Bocas Town. This hotel is called Hotel Bahia. This is a nice hotel but it is not directly on the water which is the only drawback. It is where the old United Fruit Company use to issue its paychecks. Located in the hotel lobby is the giant safe where they use to keep all of the money and the checks. That is pretty neat to see. The rooms in this hotel are roomy but not as well lit as the rooms at Hotel Bocas del Toro.
After the tour of Hotel Bahia, we walked around town and looked at the shops. We found a place to buy some authentic Panama handicrafts. Here we purchased a hammock. I can't wait to get home and use it!
When we return to the hotel, we just sat on our balcony and enjoyed the view. It is very neat to watch all the boats commute around from island to island. We are so excited to finally be at our destination and to be on the water again.
With tonight being Monday night, we decided to find a place to watch the Monday night football game. Now it would seem that we are football fanatics by this point. That really isn't true. I think we both just liked the idea of doing something familiar in a foreign country. Right next to Hotel Bocas del Toro is a restaurant/bar called Buena Vista. Amazingly, they were playing the football game and amazingly, we were not the only Americans interested in the game.
The owners of this bar are Americans. The woman is pregnant. I listen to her chat to some customers about her due date and about how her pregnancy is going. Being pregnant I am very intrigued to hear how it is to be an American living in a foreign country about ready to have a baby. This woman makes it sound like it is just everyday living. I guess the medical services in Panama City are similar to the United States. I would love to have this lady's life. How cool would it be to live in this town, own a bar and restaurant and be able to speak Spanish any time she wants to. I am sure it is a lot more work and a lot harder than she makes it seem but it sounds like dream life to me. This place also serves good Pina Colodas (I had a sip of Kurt's)
We turn in for the night and watch the rest of the game in our room. I don't remember who won but it was a good game.