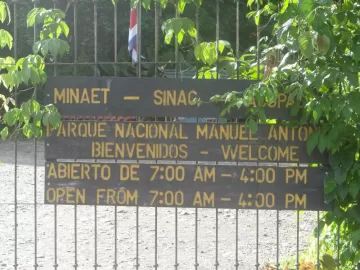 Our last morning in Costa Rica was perfect. The sun was shining through some light clouds. We packed and checked out of room before breakfast and dropped our bags off at reception to store while we had our last tour in Costa Rica.
Breakfast was delicious again and I thoroughly enjoyed one extra cup of coffee because it is that amazing. : )
We were signed up on the Parador Hotel's own guided tour of the park and were joined by 8 other people. We made our way through Manuel Antonio's many hotels and restaurants (passing by El Avion on the way) and pulled right up to the park's entrance.
So began the most wildlife viewing I've ever had in a two-hour walk. We saw Howler and capuchin monkeys within minutes of entering the park. Here is what else we saw: Rainbow grasshoppers, land crabs, a helmeted iguana, green iguanas, black iguanas, a red-eyed tree frog, birds, squirrel monkeys and sloths. Our guide was great at grabbing anyone's smart phone and snapping a photo through his scope to get amazing pictures of these tiny animals. Take a look at my photo album to view the animals. I can't believe how much we saw.
The park was crowded. The main road is the quickest path to the beach and a main reason for visitors. The beaches have been rated the most beautiful in Costa Rica and bring throngs of people each day to enjoy it. We made our way slowly through our tour before heading down to the beach.
Once we arrived, our guide had a picnic table set up with a colleague to watch our stuff while we explored the beaches. He led us to Playa Dos, a secluded beach that doesn't have as many visitors at Playa Tres but just a beautiful. We found out that Playa Dos was featured in Jurassic Park movies. :) We saw one of the largest black iguanas on this beach and enjoyed its wise presence. On our return to the picnic table, we were met by brave capuchin monkeys waiting to have their picture taken and steal candy bar wrappers or any loose items. We dropped off our remaining gear, grabbed some delicious fresh fruit from our guide and headed to the beach! We found a slightly less-trafficked spot to lay down our towels before venturing to the water. We took turns wading in as the monkeys and friendly raccoons will steal your belongings. We had to stop a pair of raccoons from stealing someone's bag and it was amazing how yelling and big gestures didn't phase them.
After an hour or so on the beach, we headed back to the Parador Hotel to get our bags and prepare for our return to San Jose to fly home. We had delicious fish tacos for lunch and enjoyed the last few minutes of our stay overlooking the Pacific Ocean. The clouds cleared and we had beautiful blue waters to look at. It was so hard to leave!
We took a public shuttle service back to San Jose. We met a couple from Salt Lake that had basically done the same three areas as we had but got to spend more time in each. Halfway through our drive, we stopped at a large souvenir shop to change vehicles and grab a snack before continuing on. We stopped in Jaco Beach to drop off a few other passengers and picked up a couple from South Carolina that took a vacation to Costa Rica to have some dental procedures done! Crazy right? Apparently this is very common to fly to Costa Rica to this particular dentist to have crowns or root canals done at half of the cost that you might find back in the States. The couple was raving about how great it was and the added bonus of a vacation never hurts.
We arrived to San Jose around 5PM and spent a half hour reading in the airport before our dinner date with another of my colleagues in San Jose. Scarlett came and picked us up in her van and took us out to dinner! We had a wonderful evening getting to know each other and ate so much food. She dropped us back off at the airport around 8 and we said goodbye for now. It was a wonderful way to end our trip.
We paid our departure tax and walked through security. Our flight was scheduled to depart at midnight and (surprise!) got delayed by half an hour. We dozed on the floor, read and stayed hydrated while we waited to board. The plane was pretty empty so I moved to the empty row behind Kels so we could both sleep. We arrived to Houston bright and early at 5:45, made our way through customs, grabbed a small breakfast with coffee and made our way home.
Costa Rica was amazing and I'm so glad that Kels and I had to the chance to experience the beauty of the country, the hospitality of the people as well as the time together.
Pura Vida!