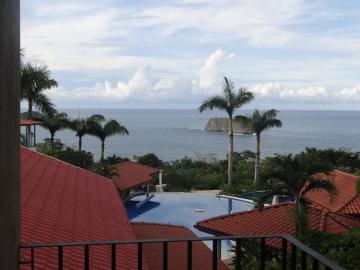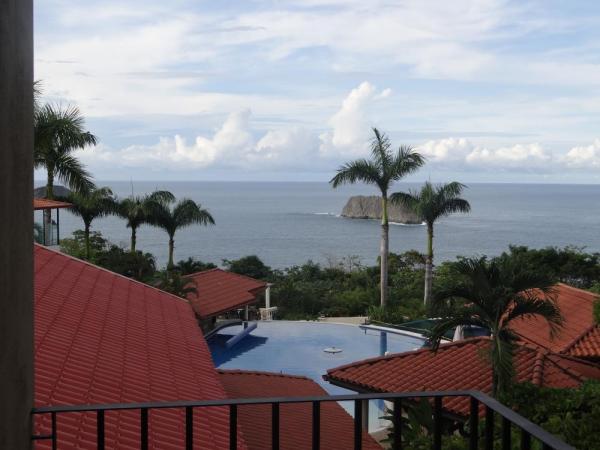 Monteverde greeted us in the early morning with quiet movements in the trees followed by bird song. We got up, packed a little and prepared for our hike in the Monteverde Cloudforest Reserve!
Breakfast was the usual delicious fare but the Trapp Family Lodge doesn't serve it buffet style. They ask what kind of breakfast you'd like (choices were pancakes and eggs OR gallo pinto with eggs OR all of it together. We were also brought fresh fruit and yogurt. Quite tasty!
After breakfast, we waited in the lodge for our drive just 5 minutes up the road to begin our hike. After a wait of about 15, the hotel reception asked us if she could call our transfer to see where they were. Within a few minutes of that call, someone had arrived to pick us up. He explained that they had a large school group at the reserve that delayed his arrival.
We arrived to the cloudforest and met our guide for the morning, Victor. He immediately pointed out howler monkeys in the trees above us and pulled out his scope to zoom in. Victor loved the cloudforest and it was very obvious that his passions were birds. We spent 25 minutes trying to catch a glimpse of a purple hummingbird in the forest but it kept moving so much we had to move on. He made us stand in the center of the trail, close our eyes and just listen to the active wildlife around us. It really brought us to appreciate how the quiet forests can bring so much calm to you. We saw lots of ficus trees of various years' growth, wrapped around host trees. One was so old, that the original tree had long since died and left a hollow body of the ficus. Victor pointed out a juvenile, female tarantula in its tree hole. Caterpillars on leaves and the craziest thing I have ever seen, a real zombie-bug! We saw this wasp that had been taken of by a parasitic bug (I can't remember what kind) and it was playing host for the parasite until its use is no longer needed. Victor said that this is a skilled way the bug survives by taking over its host and controlling the body of the wasp to take it where it wants to go. In this case, the wasp had wings so Victor imagines the parasitic bug will eventually fly higher into the forest to lay its eggs. Once there, it releases itself from the wasp, the wasp dies and the bug continues its survival. SO CRAZY!
The other great thing about the Monteverde Cloudforest is that it is right along the continental divide so Victor talked a lot about the geography of the area and how the years of movement formed the cloudforest. Way cool and I was a little bummed I didn't get to go to the actual divide in Costa Rica. I guess I'll just drive to Bozeman from Missoula and walk over it. :)
Once our walk was finished, we thanked Victor for his tour and set off to find some lunch. Our driver was willing to take us past our hotel and into Santa Elena. We walked around many of the tourist shops, saw the infamous Treehouse Café & Restaurant built around a living tree and stopped in a grocery store for lunch and snacks. Once we had seen what we could see in Santa Elena, we grabbed a taxi back up to our hotel to checkout and prepare for our last transfer to Manuel Antonio and Quepos.
Shortly before 1PM, our trusty driver, Victor, picked us up for our last journey together. A 4 hour drive down the Pacific coast of Costa Rica for our last stop before going home. It started to rain and then turned into a downpour, but Victor drove along without issue. We made small talk along the way but Kels and I found ourselves dozing off and on during the drive. Within an hour or two of coming out of the cloudforest, we made our way into Puntarenas and I had my first view of the Latin American Pacific. It looked wonderful! The waves were so high and the beach were long and white. I could see the Nicoya Peninsula and many barges as well as glimpses of hotels in the distance. This would be a fun place to stay.
We turned inland for a few miles, passed the remains of an earlier landslide that closed the main highway between Puntarenas and San Jose just a few days earlier, and continued south. We passed over the Tarcoles River but realized too late we were there! Tarcoles is a major tourist stop because it is one of the largest watersheds for animal life before the water dumps into the Pacific Ocean. One of the most popular animals you'll see is the crocodile. Typically, they congregate right below the bridge so you can hang over the side and see up to 20 at a time. We tried our best to crane our necks behind us, but the rain was too heavy to see anything. We decided we were okay to not stop and continued on.
Two or three hours later, we arrived in Quepos and Manuel Antonio. Quepos was so busy. There were throngs of tourists and locals combined making their way to many restaurants and the main beach. Within a few short minutes, we were driving along roads lined by hotels and forest. We saw the sign for our hotel pop up (Hotel Parador) and Victor took a left onto a busy, narrow road that led to our hotel. It kept going for a couple of minutes, with a few turns here and there, when the road ended right into the parking lot of the Parador Hotel.
It was a quick exchange upon arrival: our new hosts greeted us and as they took our bags from Victor and welcomed us in, we hesitated and turned to say goodbye to Victor. We wanted to thank him for picking us up in Monteverde, driving us here and then turning around to go back to San Jose. His day was well over 12 hours of driving and we were so appreciative of this. He said "see you soon", gave me a kiss on the cheek (very traditional in Costa Rica), shook Kels' hand and was off.
The Parador was full of post-colonial and Spanish artifacts and fun to look around. There is even a wall of celebrities that have stayed at the Parador hotel. We were given cold towels for our neck and face as well as a delicious jugo de pina while we received our room keys. We were taken up a staircase and into the main dining area before see the pool and the remaining grounds of the hotel. It was beautiful here! Our room as a partial ocean and garden view and our balcony gave us a great look over the pool into the Pacific Ocean. The Parador hotel has its own private reserve of land but has only developed a very small portion for its facilities. The rest will remain protected for the animal life that still resides in the trees.
We spent the rest of the evening exploring the grounds, settling in and enjoyed a happy hour beverage before dinner on the terrace. Kels hadsalmon ravioli trip and I had red snapper with roasted vegetables and potatoes. Both were very good and we filled right up. This was a perfect way to end a long driving day.