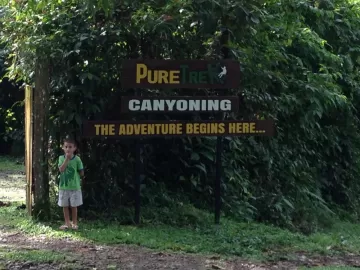 Our last day in Arenal was full of excitement. Today was our biggest activity of the trip; we were ready to go Canyoning and Rappelling! We were picked up by our hotel and driven to the edge of the private land where the tour takes place. We hopped into a jeep and headed to the start point. We were quickly placed in our harnesses, helmets and met our 8 guides. They were all so friendly and became quick friends with the whole group.
After the safety talk on how to rappel, we were launched into the tour. They don't just start you with a baby rappel. The first section is a 165-foot waterfall! It was amazing. Kels and I got to go side by side (I had the head start) but I was quickly passed with Kels' rappelling skills. : ) The rest of the tour was so fun. Three more rappels plus a zipline combined with a drop. The guides encouraged all 15 of us along as we jumped and spun. I was so sad to see it end. Our group was a great range of ages and family dynamics and everyone loved their tour. I would definitely recommend this tour.
We ended back at the operator's main headquarters where we were fed the typical casado lunch with coffee and cookies for dessert. We hung around afterwards and spent some time hearing about the guide's stories and where they were from. So fun.
Once we returned to the hotel, we checked out and read in the hammocks until our transfer to Monteverde arrived.
We did the typical transfer from Arenal to Monteverde: bus-boat-bus. It was raining and misty along the lake and so pretty. The boat ride was about 45 minutes long and our driver would go along the edge of the lake so we could get better views of the many egrets, cormorants, kingfishers and herons. On the other side, our driver picked us up and we began the steep ascent into the cloudforest. It was about a 3 hour drive but the landscape was so amazing it didn't matter. The farms along the steep hills led into dense forest and coffee fields. The scattered houses and cars that make this commute everyday were impressive. The roads were so bumpy that I bet they would be exhausting even on a motorcycle!
Upon arrival to Santa Elena, our driver pointed out the best local hang outs and we continued on our way to the Trapp Family Lodge, just minutes from the Monteverde Cloudforest.
The hotel was just as I hoped: Simple, clean and beautiful. It was full of rich wood and simple décor and reminiscent of the Izaak Walton Inn back home in Montana. We had a pleasant dinner with our new favorite drink: Jugos Naturales en Agua (aka: fruit smoothie) and called it an early night.
Next Up: Cloudforest Hike and Manuel Antonio!