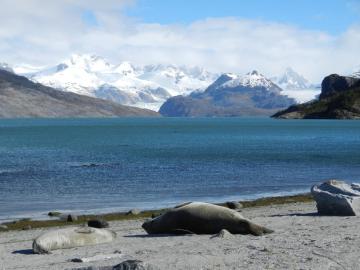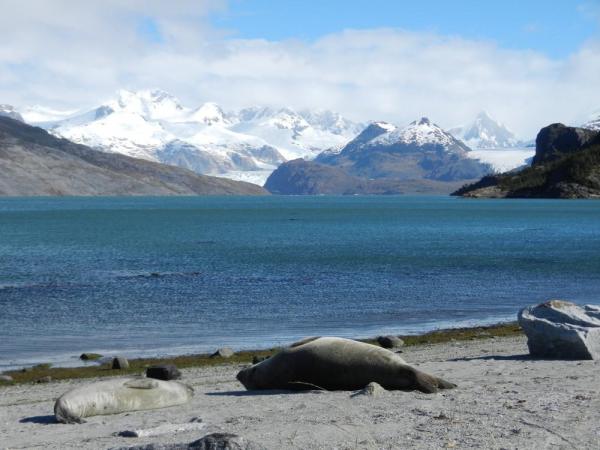 The only way to see the Patagonian fjords is by boat. South of Punta Arenas there is a vast landscape untrammeled by humans. No roads, no houses, not even a vestige of a past logging operation. We sailed south from Punta Arenas through the Magellan Channel, past Parque Karukinka and Parque Nacional Alberto de Agostini. The Via Australis was our home base for the expedition and she sailed us through waters both calm and relatively rough.
Tierra del Fuego is reminiscent of Antarctica – a sort of Antarctica-lite. Huge mountains ascend out of the fjords, studded with glaciers that reach all the way to the water. Those glaciers calve icebergs into the water where 16-foot leopard seals can be seen resting on their translucent blue ice. Thousands of penguins frolic at Magdalena Island, bobbing across the barren island, tending to their nests and desperately trying at attract mates. Dolphins follow the ship's wake out of the bays before lagging behind and finally giving up. Whales can be seen off the bow. One day we were in the bridge chatting with the captain about the instruments, when a humpback whale fully breached not more than 20 yards from the ship. We watched him for an hour before he finally disappeared under the mirrored waters for good.
On Ian's 40th birthday, we were cruising around in a zodiac flanked by six massive glaciers when we solidly bumped into an iceberg. We joked with the zodiac driver that we should probably rename our zodiac the "Titanic". That was before we realized that the front baffle had popped and we were losing air out of the front of the zodiac. A few minutes later, the Via Australis had raised anchor and was sailing towards us. We didn't seem to be in any danger and the zodiac is comprised of probably 10 different baffles, but I suppose they weren't taking any chances. After we were safely back on board, drinking complimentary scotch, we poured a bit out on our poor, forsaken "Titanic". Rest in peace!