Ok there weren't any trains that we took in Chile but we did cover just about every other mode of transportation: planes, buses, boats, vans, metros, bicycles, walking, and horseback riding!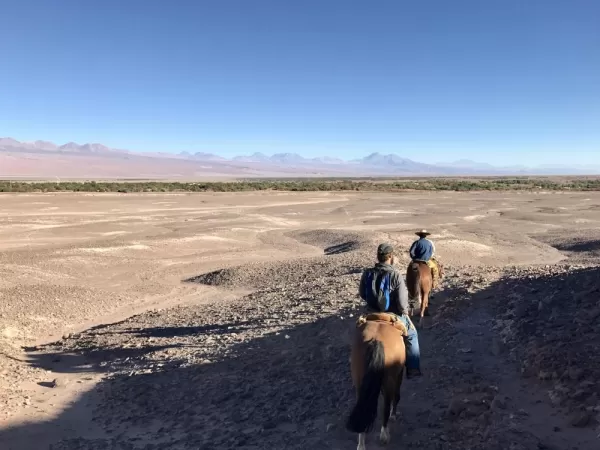 Chile is a looooong country and traveling anywhere takes some time. Fortunately for travelers, the Chileans have made every effort to smooth out the infrastructure from door to door - it just takes precious traveler time.  We arrived into Santiago at 10am after over 24 hours of traveling from the US.  The taxi window was easy to spot and we paid for our ride to the hotel before stepping outside into the masses.  The following morning we transferred back to the airport and flew to Punta Arenas.  Its a smaller but well organized airport. We grabbed some sandwiches at the restaurant there before our bus arrived to transfer us to Puerto Natales.  I was pleasantly surprised that Chileans put avocados on EVERYTHING and I love avocados.  Unfortunately for my husband, Matt, he's mildly allergic to them.  More for me!
The Punta Arenas airport is about 20 minutes outside town so we couldn't do much but wait until our bus arrived. I had heard about the wind in Patagonia but its another matter to actually experience it.  I hid behind a pillar on the sidewalk to avoid being blown away.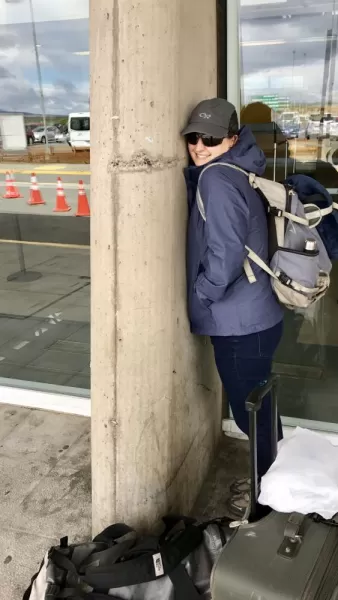 Our bus ride was about $10 per person and turned out to be a fairly comfortable 3 hour drive to Puerto Natales.  They stopped a few times to pick up and drop off travelers along the way. One thing I will say about Patagonia is that the landscape between cities and other destinations is quite stark.  It reminded us of eastern Montana back home with the flat plains and high winds whipping through.
Upon arriving in Puerto Natales we hopped in a taxi and took a 15 minute drive down the road to the Skorpios dock outside town that cost about $5.  All-in-all the entire trip from Santiago to our cruise was relatively affordable and comfortable. It was just a long day.  We boarded the ship between 4-5pm and realized we'd spend the entire day traveling again. They handed us a welcome pisco sour and we begin exploring the ship as we sailed out of the harbor. Thoughts of travel aches and pains withdrew to the background as we reveled in the gorgeous natural beauty around us on the top deck of the Skorpios III.  Oh and the awe-inspiring winds again.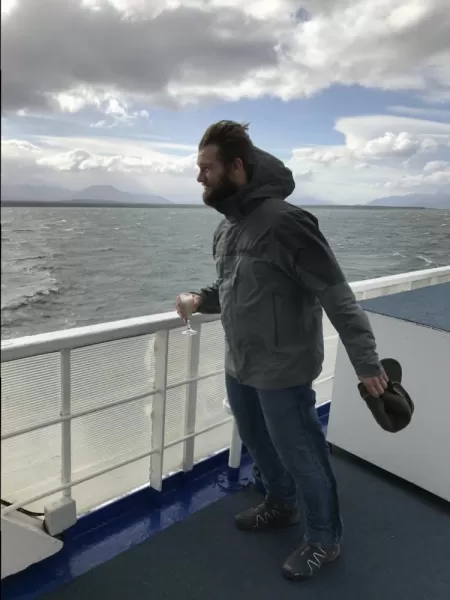 This was the story of our Chilean travels - one day experience and the next day transferring.  After our time in Patagonia we drove back to Punta Arenas and flew into Santiago.  We spent a day there and then traveled on to Atacama.  It was a couple hours North and then we took a shared transfer across the dessert to the town of San Pedro de Atacama. 
In retrospect that is the one regret I had about our Chilean adventures.  Out of our 14 days, we spent 6 full days getting to different destinations.  All the highlights are spread out from North to South and we wanted to experience all of them!  My recommendation for other travelers would be to pick an area of interest and do it right!  It was a very unique experience for us to travel all over the country from fjords, to mountains, to vineyards, to dessert.  However, at the end of our trip we found we were sick and exhausted.  We did find a bit of time to relax and recuperate by the pool however.