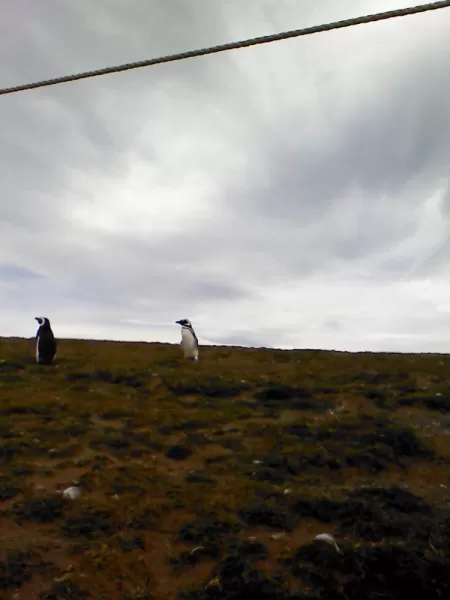 I saw penguins today!!! Around 1000h I boarded a large ferry (which doubles as a penguin tour boat) along with about 100 other penguin fans. My concerns about rough waters were needless given the size of this vessel. It also had a heated sitting area and washrooms - quite civilized. According to my Trip Advisor research there are smaller boats that do these tours with no washrooms and a rough ride in choppy water so this one suited me fine.
I stayed outside for most of the two hour ride to the island hoping to see any other interesting sea life but no such luck. I met up with a fellow from Poland and a young lady from Finland. The Polish guy was freezing while the Finnish lady and I were quite comfortable - used to winter temps I guess. It wasn't that cold but one was more comfy in windproof clothes.
Anyways.. The penguins! Not sure how many inhabit this island but they were everywhere! These are a smaller burrowing variety that are sometimes called jackass penguins for their loud bray-like call. We were told when we arrived to stay on the trail and give the penguins the right of way should they decide to cross.The penguins nesting at the mouth of the burrows seemed pretty laid back. It made for great photo opportunities. My favourites were the ones on the move. They are so awkward waddling around on land. When they get to the water they glide on their sides flipping like little egg beaters as they scrub a dub dub. Then they shoot off like torpedoes. It amazes me just what is propelling them to go that fast.We had a good hour to walk around the island and observe these little characters. It was then back on the boat for the return trip. It was well worth the extra days in Punta Arenas to do this.I shared a cab back downtown with the Finnish girl. She will be heading off to Argentina tomorrow. The Polish guy was heading to the Torres del Paine park. Not a lot of planning with him so I wish him luck.
Some kind of festivities going on downtown. Lots of booths and such to spend my last pesos. Journey home begins tomorrow!
There was some kind of a festival going on downtown.