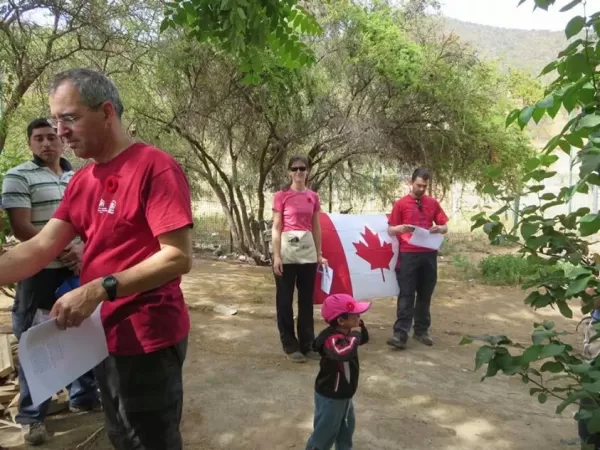 Team moving a bit slower today but cheerful and ready to work. Sunny with a hot day on the way. After our usual breakfast of cereal fruit, bread,yogurt and Marc's special peanut butter we headed out for Curacavi.
Today we started with exterior walls. From there it was flashing around base of addition then dismantling prefab interior walls. This had to be done since they had warped badly. Frustrating for Ivan our foreman but needed to be done. Working within the walls with no breeze coming through was like working in a microwave. Lots of water to drink so that helped.
Little 3 year old Anderson wasn't happy to see the new hole in the wall that joined the addition to the existing house since that area used to be his bedroom!
When we left there was already a few rows of siding up the side of the house so a productive days in spite of the issue with the crappy interior walls.
We stopped work at 1100 to observe Remembrance Day. Chanel had prepared a lovely service and we all had a part. It was very moving even though we were far from home surrounded by the Andean foothills.
Speaking of Andean I was thrilled to see an Andean Condor soaring overhead. These birds are endangered. They weigh up to 33 lbs and can have 10 foot wingspans.
I was able to enlist Paola (10) and Camilla(12) into helping me with some Spanish lessons. They helped my pronunciate my counting up to forty. It was fun! They are sweet kids.
There 11 of us crammed into that van coming back to Santiago. I almost had Ivan on my lap in the front seat. Rita and her partner (can't think of his name right now) were sitting on ottomans in the luggage area.
Good driving by Miriam got us back safely- no small feat!
Tonight was restaurant night (no catered meal at the hotel). After a wonderful shower it was off to Bario BellaVista to an authentic Chilean restaurant. The servings were massive - especially Christa's pork leg.
Got good photos of that!
Lots of talented buskers in this area. One guy playing drums tied to his back and cymbals and other sound making bits attached to his body was especially interesting. Also at intersections when cars are stopped at lights guys jump in frfront of them and juggle, play bongos or whatever. Very cool!
Anyways it was a great atmosphere for our dinner and we had lots of laughs.
I had a hearty soup and crepes with dulce leche for dessert. Very good!