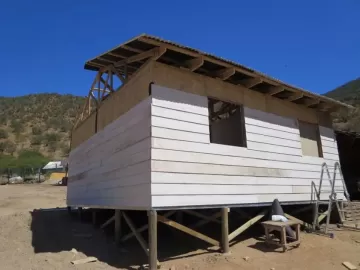 Up at usual time to eat and head off to the site. Ivan was a but late arriving but Miriam made good timing on the drive through the city to Curacavi.
We hit the ground running with people working on a truss, others finishing with insulation, while some worked on framing and supports for interior walls. Ramone and Rita are the siding experts and spent the day on that.
I was given a gentle task with my wimpy knee (which is much better by the way) in mind.
I had to measure and cut rolls of tar paper which would later be rolled out onto the roof. It was a nice easy task with the exception of a beagle who wanted to make a point that I had stolen his shady spot. He would park his butt on the paper once I had rolled it out making it difficult to roll back up. He also made sure he left plenty of dusty paw prints!
We steam rolled along and by lunch were starting to install drywall. The carpenters put strapping on the roof then fastened the tar paper and corrugated roofing to one side. This gave us some much needed shade since it was a microwave in there with little breeze.
Rowena, Maite's social worker joined us later in the afternoon.
Mid afternoon snack was ice cream cups. Simply heavenly in that heat!
Camilla and Paola were there after school. I gave them each a pin with Canada's and Chile's flags. They liked that and asked for one for their mom.
We worked til well last six then headed back to the city in our upgraded van. It seats 12..legally..rather than the previous one with Ramone and Rita in the "lounge" (cargo area).
It was a long busy day but very productive..got back late..then out for fabulous dinner at as Peruvian restaurant.2315h now.. Time for bed. Blogging will continue tomorrow!