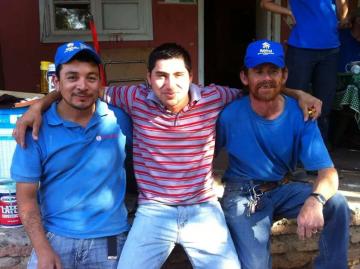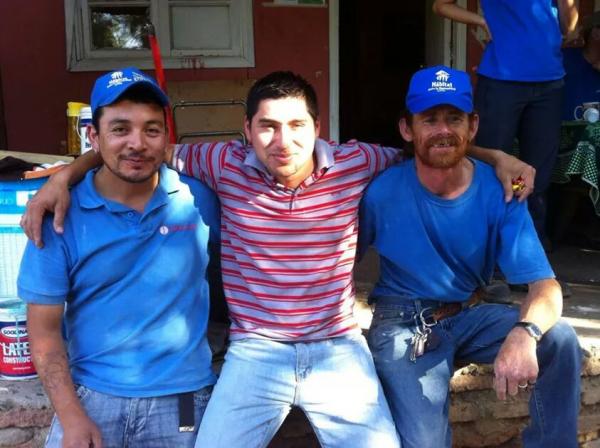 The commute this morning was a bit longer due to the Metro not working for some reason. Traffic was very congested and people were lined up in masses to catch buses. Miriam our driver is a road warrior and navigated us through the traffic snarls. Fun fact: on one 's commute one can buy a paper, ice cream, fruit, or watch a break dancer - all while sitting at a traffic light in your car!
We arrived at the site to see 3 yr old  Anderson all smiles running to the van. The goal now is to have a room ready for Maite so she can get out of hospital next week. Today's work was prioritized to complete the roof and frame, insulate and drywall Maite's room. The team went into overtime but left with this having been completed. The drywall was close to completion in the rest of the house also.
Paola and Camilla had no school today so were around with their smiling faces and to pop by with a flower or a puppy to show us.
When work was finished for the day there was a ribbon cutting ceremony with snacks to follow. We also exchanged mementos and heartfelt reflections on the past week. It was a proud feeling to look back at what existed when we drove in the yard on Monday and compare to the large addition that now stands.
Miriam (the cook, not the driver) shared her recipes for semolina dessert and her salsa. She served her salsa at every meal and competition was fierce to access it before it disappeared.
We said our final farewells then headed back to Santiago where Road Warrior Miriam took us down side streets to avoid the traffic snarls.
Last catered meal at hotel. Ivan our host joined us then it was goodbye to him too.
Tomorrow we play tourist on a bus tour to Valparaiso by the sea.