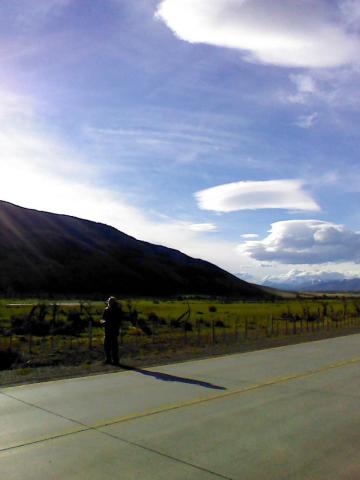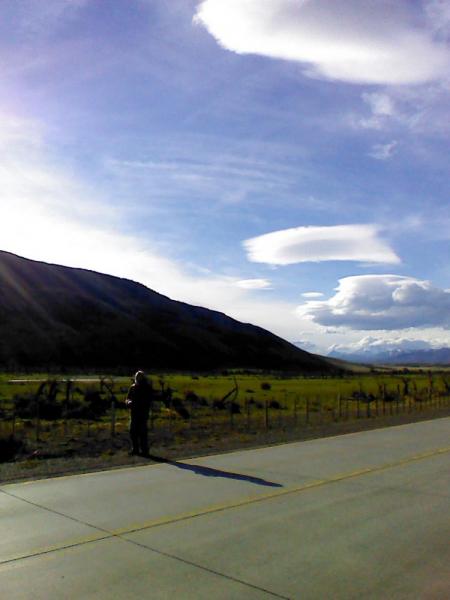 Said goodbye to my awesome "roomie" Suzanne this morning before heading off to airport. I was able to share cab fare with a couple of Aussies from the hotel who were on the same flight. That flight was pretty much full of backpackers heading to Torres del Paine National Park. It was wierd when they put up a picture of the flight path and it showed South America (rather than Canada like Im used to). You could also see a tip of Antartica ...not far away!
/> I was happy to see my luggage and to connect with the driver to the hotel. He picked up 5 passengers in all. It was flat and scrubby around Punta Arenas and very gradually transformed into a blend of grassy steppes and mountains. Sheep are everywhere! In fact we stopped at a ranch for " lunch". We had lamb and beef barbecue with potatoes and salad, wine and dessert. As we walked in we were offered a pisco sour - Chile's famous cocktail and a favorite of my Habitat team.I toasted them as I had a taste!
We then had a sheep dog herding and a sheep shearing demonstration. It really was not pleasant to watch. I was happy to see the sheared sheep brought back to its enclosure. The sheep dog was cute and clearly proud to be herding sheep!
It was a much longer drive than expected to get to the hotel. It was about 7 hours which included our lunch break and numerous stops for photos. The wind was furious making staying still to take a photo almost impossible.
The driver pointed out how close we are to Argentina. It is just a stones throw away.
Aside from zillions of sheep and a few cattle we saw flamingos, guanaco's (llamas), silver fox, caracaras (behave like crows but look different), black faced ibises,and rheas (look like emus). When I got to my room tonight a jackrabbit came running up to my window.
It is raining now and I can see little of the mountains outside my window. Hopefully tomorrow.