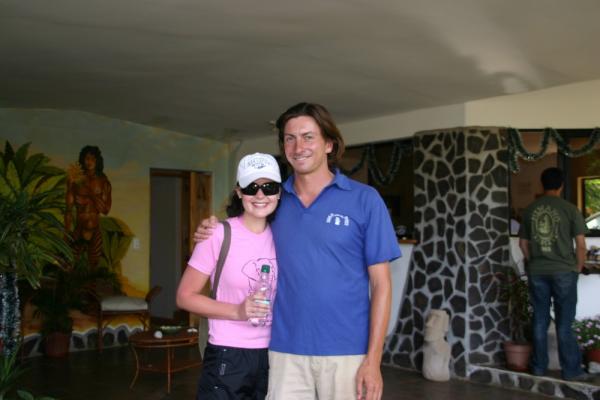 Meyers--
Slept great-Early wake-up this morning. Probably woke up the entire 'Petite Hotel' with the creaking floors--had a great laugh! Off to airport and Easter Island. We are very excited! Sharon is feeling revitalized after Starbucks.
Arrived on Easter Island at 1pm. Freider, our local guide, came to pick us up--seems like a great guy. As soon as we get off the plane it begins to downpour-enjoy our first hour admiring the awesome rainstorm from our hotel patio. Rain stops-we hit the trail for the next 6 hours of hiking and pics. Have to see the Moai statues!
Way impressive! Really beautiful and an amazing sight...to believe that a culture could create such intricate art and village structures so long ago.
Made a new friend (a pregnant dog Sharon so fondly called 'Lilly'.) Found a killer ice cream and coffee shop...our first taste of papaya ice cream-addictive! Sharon recognized La Taverne du Pecheur from our travel guide so we dined at this lovely little restaurant on the harbour at Plaza Hotamatua. Had unbelievable lobster, tuna, and Chilean wine. Made reservations for Xmas Eve and Day. Should be nice!
Oh yeah, Sharon is burned and looks like a striped tomato at this point! South Pacific sun is WAY brutal. Cold shower and lotion for her! A real trooper :-) Full day tomorrow with Freider!