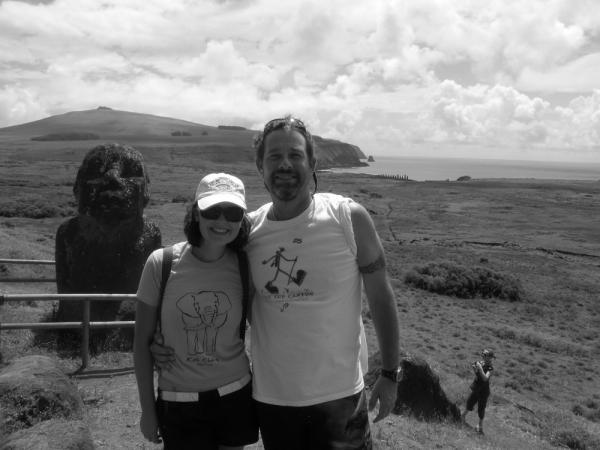 Sharon & Meyers--
Woke up with big post-xmas headaches..quite dehydrated. Freider picked us up and we gave him a little Christmas gift and am exceptional evaluation. He was the PERFECT guide for us. Full of information, and extremely passionate about the Rapa Nui culture and the island. He continually asked tourists to stay off of the ruins and not to touch anything. His respect and passion for the architecture and nature of the island was definately eye opening and I had deep respect for this. He loves what he does and he made our trip even more exciting!
First we went to the northern side of Rano Kau crater where we peered into the ancient volcano. What a sight!! We continued on to Orongo where we learned about the Birdman and how this individual was chosen. It was unreal how men descended the side of the crater, swam over a mile to the island of Moto Nui and stayed several days to retrieve an egg from the nesting birds. Once the man found an egg, his competitor became his protectors and he swam all the way back to Easter Island with the egg strapped to his forehead in a little pouch. This man was celebrated by the creation of a petroglyph in the stones on the cliff above the three tiny islands. Absolutely amazing!!
We then headed down and went to Ana Kai Tangata, where paintings of the Birdman and other can be seen on the cave ceilings. Some say this cave could have been used as a cook house for the competitors in the race for the egg. The paintings were amazing! We then climbed back up to the top of the cliff and watched tropical fish feast on 4 day old Chilean bread :-)
Off to the gardens where students and Park Rangers grow plants that were found hundreds of years ago as staples in the Rapa Nui culture...taro root, sugar cane, sweet potatoes, which are all still served on the dinner plate.
We then got a bird's eye glimpse at the phenomenal runway that was built as an emergency landing spot for the Space Shuttle...very neat!!
Freider then took us to a car rental place where we rented a Quad (4-wheeler) and headed back to Anakena--our new favorite beach! The 4-wheeler was awesome and a great way to see the island! So much fun..although you had to watch out for crossing horses and cows!!
Saying good-bye to our newest friend and great guide was sad but will become Facebook buddies when we get home. Made a life-long pal and very much appreciated his dedication to showing us who the Rapa Nui were and still are.
Stayed at Anakena about 4 hours, which ended up being 2 hours too long! Meyers mistakingly thought his Burt's Bees had sun screen in it and now his bottom lip is toast! He literally COOKED himself! Okay, not funny :-(
The beach and ocean were alot of fun..great sun and deserted at first...beautiful blue ocean. Impressive! Hung out at the beach and had a lunch of Escudo and banana bread, the lunch of champions!
Drove the 4 wheeler back along the inland road (18 km to town) which was nice and cool. Headed straight to the artist's market and cultural center, picked up a few souvenirs for us and family. Then to the empanada stand..finally!! They were delicious...almost as delicious as our ice cream for dessert. Very tired at this point. Back to hotel for showers and rest.
Sharon is way exhausted but Meyers has to get the sunset pictures in so back on the 4 wheeler to Hanga Roa. Night!!