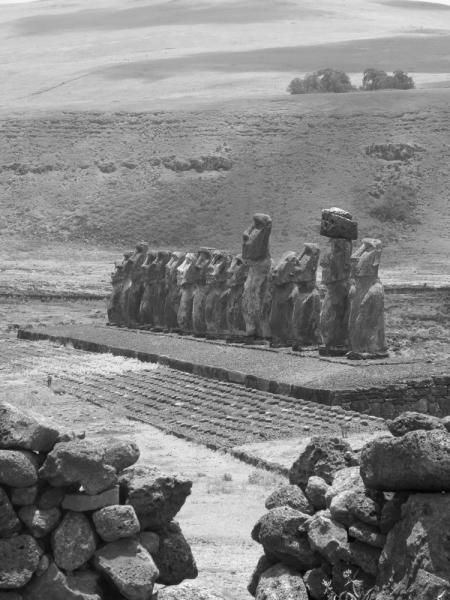 Sharon & Meyers--
Last morning on Easter Island..we are both very sad to leave this incredible island...we could live here :-)
We jumped on the 4 wheeler and headed into town. Filled up the tank and returned our little automobile. Ran into Freider while we were waiting for the pharmacy to open. He was on his way to meet his next couple eager to explore. Eyes started tearing up knowing we had to go :-(
Grabbed some much needed lotion for our insane sun burns. Even with 30+spf we fried. I forgot to bring the 60spf we had bought on Galapagos and I am suffering for it! Picked up some 12 hour moisture lotion that had a very funny smell to it. When applied it smelled like pork! Meyers looked and smelled like a roasted pig! Great laugh!
We had a cup of cafe at a roadside stand and admired the truck-beds full of fresh produce. The colors were spectacular. You could never even think about having fruits and vegetables like this in land-locked Tennessee...organic at its best!
Arrived at the airport pretty early and watched the plane arrive. Took some video and pics for my bro, the pilot.
Meyers, or as I now like to call him, Angelina Jolie, stayed inside to nurse his puffy smoocher. Never seen such swollen lips in my life! Lesson learned--never again will I spend time in the South American sun without the 60+spf :-)
Meyers surprised me with a couple of t-shirts (in unison, awwwwwww) and then we boarded the plane to Santiago. Stay-Puffed Marshmallow Meyers snored all the way to Santiago!
Back in Santiago and to the Villafranca Petite Hotel. Sharon's wrist was really sore so she needed to take some medicine. Went back to the Phone Box Pub for another great dinner.
Back to hotel where we shared some great laughs and memories from the Island. Another great day but we already miss Easter Island :-( We will be back soon! It's Sharon's dream to be like Pasquet the Norman Viking and own her own restaurant on a tiny island...who knows we may see you soon Easter Island!