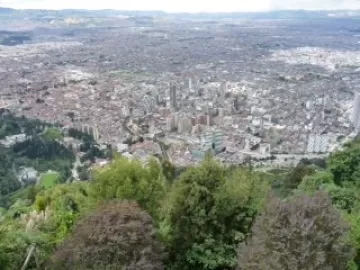 Our flight was a non-event, thankfully, from Buenos Aires to Bogota. We arrived a little after noon, and met Mike outside the terminal. After the 20 minute ride to their home, we had a delicious and most welcome home cooked meal, thanks to Elaine's hard work. It was good to see everyone...hugs all around!
Mike had previously arranged a tour of the Presidential Palace in downtown Bogota, the place where Miguel Santos works and lives. The security was tight, and we needed our passports for IDs. No cameras were allowed, so I decided not to bring it, nor my bag or any other item. We were met at the gate by a tall, smartly dressed woman in national police attire, who checked us in. There were military personnel flocking around the palace, and one became our guide for the tour.
We were soon ushered in, and taken first to the cabinet room, where members sat with the president for meetings. Our guide pointed out that Santos sat among the cabinet members, instead of at the head, to show that all were 'equal.' during the remainder of the tour, we visited various rooms where dignitaries met, and one where marriages of government official's children were arranged. This room was very similar in style to those found in the palace of Versailles, but on a smaller scale. We were shown various articles (vases, sculptures, paintings), that were given as gifts to former presidents from Spain, England, Germany and France. The building itself was over 500 years old, and the architectural style looked Parisian.
At one point in our tour, a number of security guards were bustling about with intercoms. One requested that our guide keep his voice down. He told us that the President was having a televised press conference at that very minute in a room just a few yards from us. The media and reporters were everywhere. We were curiously admiring a painting of a pudgy 'flying nun' by an Colombian artist named Fernando Botero. There was a group passing quickly behind us, and we soon discovered that Santos was being ushered out of the area with our backs turned, so we never saw him! I was so disappointed!
The tour finished, so we headed towards our car. The rain began to pour, so we ducked into a gold coin minting museum, a favorite of Mike's, for about an hour or so. Gold has been mined in Colombia for many years.
We also had an eyeful of Botero's works which were rather amusing. Somehow, he painted with a magnifying glass, so every figure looked bloated, in a creative sort of way. Each person had similar facial features of the artist himself. They made us giggle as we moved from room to room viewing his works of art.
We arrive home tired, had a bite to eat, and retired for the night. The four of us had been up since 3:45am, so the pillow looked extremely inviting!