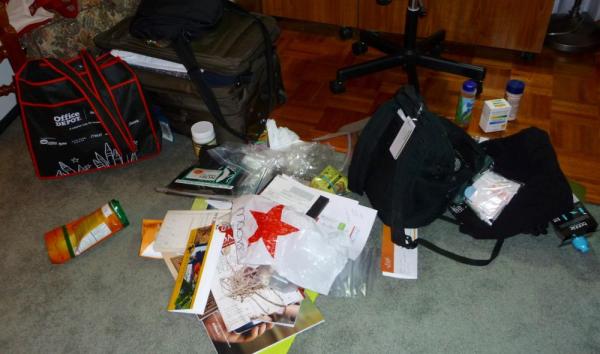 Olivia and I had close to two hours of sleep last night. I didn't feel anxious...I just couldn't sleep. Lord, give us grace for the day!
I was grateful to discover that the snow had not begun to fall yet, so everything is a go! Even my eye issue has resolved a bit. Yeah!
We got to the airport, fully intending to carry on our luggage, with two additional pieces...a purse and a small backpack for Olivia and I. We also carried a couple of snack bags, and an extra bag for the Dubberlys. No sweat, right? WRONG!
We were allowed only two bags on board...period. It didn't matter that one was a purse, or a tiny snack bag. Sooooo, back to the desk to check two of our carry-ons. Which, of course, defeated the purpose. But, it will pay off later. I'm certain of it.
Did I tell you that we acquired these tickets to Bogota and back with AA frequent flyer miles? The only ones that were available for the trip down were first class and business class...wow! What a treat...
It's been quite a day of travel...two legs, and four tired travelers are arriving soon in Bogota. The flights have been a non-event, thankfully, and we have appreciated the extra room in first and business class. Although, I wouldn't pay for this out of my own pocket, especially on a short flight, it was, none the less, a treat. For Olivia and I, it was a dietary disappointment. You would think, on an overseas business class flight, that they would accommodate special requests...nada!
Customs in Bogota went smoothly. The little Spanish we used with the customs officer made him think we were fluent in the language, so he rattled off a string of words! At one point, he took out a type of jeweler's loupe to examine something on my passport. He took his time, which made me wonder what he was looking at. Was it my photo? The paper it was printed on? My signature? I'll never know...
The entire Dubberly family (except Rachel, who's at college), came out in their Chinese 10-passenger van to pick us up. Well, 10 Chinese, maybe, but more like eight Americans and Colombians! Good thing we only had carry-on luggage. We were stuffed like sardines in a can...and we loved every minute of our 15 or so minute drive.
As we talked about the weather, Elaine said there were two seasons during the year...rain and no rain. When it rains two days in a row, the Colombians say, What a winter we are having! If there are two sunny days back to back, they say, What a summer we are having! We got a chuckle out of that!
We arrived at their home tired, but thanking the Lord that we landed safely.
Buenas Noches!