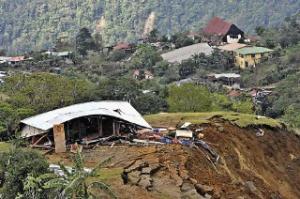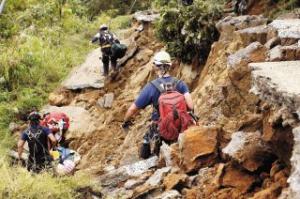 The Costa Rican people have touched the lives of our staff and our travelers over the years, and we are saddened by the recent earthquake. In the afternoon of Jan 8, a 6.2-magnitude earthquake struck Costa Rica with an epicenter about 20 miles northwest of San Jose, killing at least 23 people and destroying more than 400 homes and damaging over 600. Three weeks after this terrible disaster, more than 2,800 people have been forced into tent camps and temporary shelters as tremors and landslides triggered by the earthquake destroyed and damaged homes.
Over the past few weeks, Adventure Life has been contacted by our alumni travelers asking how they can help by donating to the relief efforts. There are a few options to consider:
- Donate online to the Costa Rican Red Cross who is leading the relief operations by sheltering and providing vital supplies to displaced families. Donations can be made online to the
Costa Rican Red Cross's website (click here)
- Adventure Life's affiliates based in San Jose are running a fundraising campaign to purchase provisions directly from wholesalers in San Jose to stimulate the local economy and then donating the transportation to deliver essential food supplies to the relief centers. Our travelers can feel confident that 100% of their donations are used for purchasing rice, beans, cooking oil, and sugar and delivered directly to the families that need this vital assistance. Donations can be sent by check to the Adventure Life office in Missoula to: Adventure Life Costa Rica Relief, 1655 South Third Street West, Missoula, MT 59801.
We have also been contacted by future travelers with concerns about their trips to Costa Rica. No major tourism attraction was seriously damaged by the earthquake other than the La Paz Waterfall Gardens. Safe drinking water and electricity have been returned to all the areas that we visit, and there are not any reported problems with the roads and bridges that are used during our itineraries. Since the earthquake, our trips have continued with great success, and travelers are returning from Costa Rica having experienced wonderful trips and feeling safe and taken care of by their Costa Rican hosts. Tourism is vital to the economy, and the sooner that visitors return to this beautiful country, the sooner Costa Rica will recover from this earthquake.
The La Paz Waterfall Gardens, a popular destination that is near the earthquake's epicenter, did not suffer major structural damage, but it is closed for the next three months to restore the grounds, trails, and other infrastructure that was damaged. We are offering alternative excursions for travelers originally planning to visit this area over the next few months.
Please contact Adventure Life with any questions about future travel and the current situation in Costa Rica and donating to assist the displaced families.