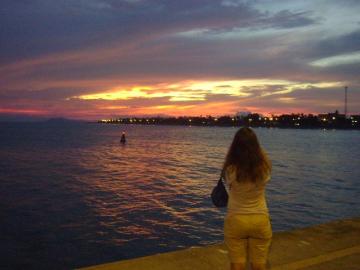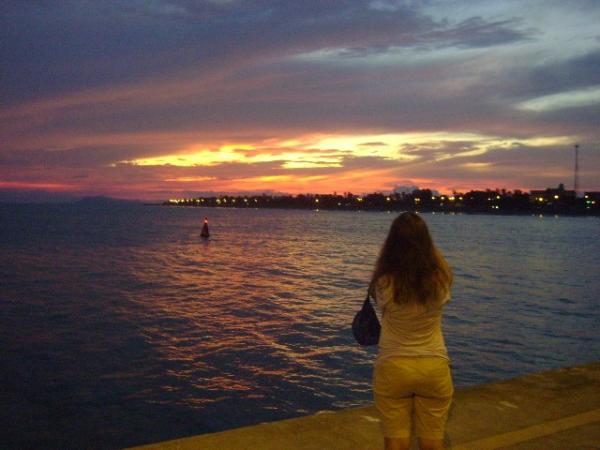 We got off the ship about 1300 hours and were going to take a taxi to the doubletree, but we were stopped by one of the ship's contracted van drivers and he offered to take us, so I tipped him $5 USD. The doubletree was very nice; a far cry from the accommodations on the ship. I got on the internet and tried to send all the backed up messages, but not many transmitted. I headed for the pool and had a beer and a dip. The water was as warm as bath water, and I could see the ship still at the pier. The ship was to leave at 0300 august 13, but later I got an email form Faye Pyles on the ship saying they had missed high tide and would try again the next day. I explored the resort and found it quite wonderful. I wish I had more time to stay as the food and ambiance is terrific.
After breakfast I checked out about 0900, and we met our driver who took us to MANUEL ANTONIO NATIONAL PARK south of Puntarenas about 2 hours away. He did stop and let us walk across the bridge of the TARCOLOS RIVER (SP?) so we could see all the crocodiles. That was quite a site. There were several pretty big ones.
I did stop in the city of Quepos to try out the bank's ATM. That proved easy and successful. We got to the Hotel Villa Bosque, a lovely Spanish style hacienda style place with an open dining area. I skipped lunch but had a cold beverage. Our park guide met us and took us into the park. Geiner Mena, nature interpreter, was very knowledgeable and informative. I would recommend him to anyone. We saw armadillo frogs, mangrove boas, Jesus Christ lizard (that run on top of the water), 3 toed sloth, frog eggs hatching on leaves, Iguanas - big Iguanas! several species of birds and lots of beautiful beaches. Costa Rica is truly a beautiful place, and the people are wonderful. Geiner said the pacific coast people are more friendly than the Caribbean side of the country.
After our 3 or so hour trek we were met by our van driver with some fresh local fruit and a cold juice drink. Now I am back at the hotel updating this blog and getting ready for dinner. Tomorrow we go whitewater rafting - hopefully without the crocodiles!! The tour folks sent me a detailed itinerary and I am trying to figure out how to get it printed out. Out for now/emr 1713 hours.