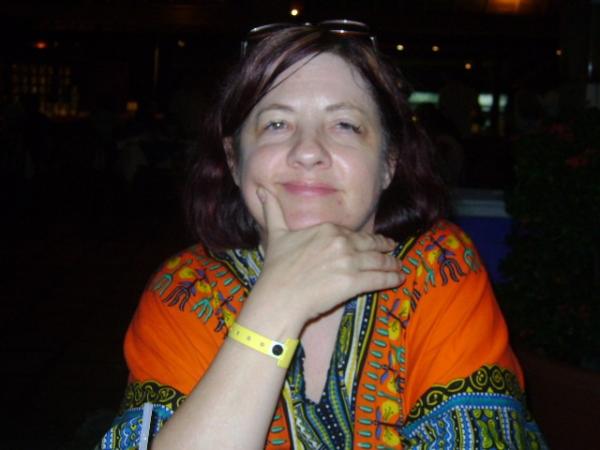 We are on our way to Monteverde on highway 34 out of Quepos. It is a good road, but still has bumps and curves. It is bit harder to type in a moving car than I thought. We just past a big African palm oil plantation, and a shrimp farm. The shrimp farm owner maximized his use of resources by planting teak trees along the perimeter and along the road. The African palm will produce the fruits or berries used to extract the palm oil in 3 years. They harvest the fruit every week, I am told. After 25 years they inject diesel fuel into the roots to kill that tree and plant another in between 3 years prior. The trees live much longer but they get too big and do not produce as much fruit. They seem to have it all figured out. I continue to be impressed with the Costa Rican people. They are hard working, punctual, very friendly, just nice people.
Please bear with my typing; this ain't as easy as it looks - Costa Rican roads! The are pretty good, not as good as Salvadorian highways, but better than Mexico. As I said that we just hit real bad bumpy stretch. A real kidney bruiser!! We seem to be doing some backtracking but I guess it cannot be helped with our schedule.
Now we are into rice country and some sugar cane and cattle. Except for the palm trees, it looks a lot like the Red River delta near Garland City AR; flat, fertile soil. The farmers trees (not sure at this time what kind) along the fence rows, and cut the tops off when they get big enough. That way they have a living fence post.
Now we are right back along the coast near Jaco Beach and some beautiful scenery. The drivers are pretty careful. They pass on these two lane roads with more care than I have seen in Mexico and the US!! One of the passengers just requested a bano break. That was a very nice and well stocked MAXIE Bodega - pretty impressive. On the bulletin board outside this Costa Rican wal-mart there were apts /condos for rent for $800 /unfurnished and $850/furnished. USD I assume per month, with a/c, pool, all the amenities.
Leaving at 0800 , we should get there about noon. I have seen more serious bicycle riders than expected. In fact, on our way to Manuel Antonio national park we met a bicycle race with about 80 or so competitors.
Now we have turned onto Costa Rican highway 27 going back towards Puntarenas, then on towards Monteverde (like I said) lots of back tracking, but the trip has been very good so far, so no complaints. Now we are passing a large mango orchard. Now we are back to the port of CALDERON and I can see in the distance the pier where that USNS comfort was docked. After the problem with missing the high tide, I was glad to see the comfort had sailed out of Puntarenas.
Now we just passed the entrance to the Doubletree/Hilton outside Puntarenas, and passed a sardine canning factory on hwy 27 for little while until we turn North on HWY 1, the pan-american highway. We just passed a big rice processing plant and lots of rice fields.
SOME RANDOM THOUGHTS AND OBSERVATIONS WHILE RIDING:
One of our docs at a medcap remarked that while he was filling out his patients Rx form, he looked up and she was text messaging on her cell phone. Not something you expect to see!!
I am very proud of Project HOPE and the Navys mission, but I do wish we could do more. We have so much capacity with the Comfort, but use so little of it. We could and should do more teaching and capacity building.
The driver just told me that this Hyundai van uses diesel and diesel cost about $5.60 USD per gallon (or 460 Costa Rican colones per liter). That is a bit more than we pay! Last I remember seeing was about $3.50 or so per gallon in the states. The farmers plant trees (the type IS CALLED INDIO PALARO) along fence rows that serve as living fence posts - good idea. I have seen that done with pine trees in the south of the usa but not to this extent.
STILL SUNDAY, AUGUST 14 AT 1300 HOURS: we got to Monteverde..what a climb up the mountains. Monteverde is 1400 meters (about 4200 feet above Puntarenas and sea level. It was 40 miles of bad road getting up here, but what scenery. It took about 2 - 2.5 hours to go about 25 Km up the windy mountain, gravel road, but we are here.
Up this high there are some pine and cypress species and they say there are puma and ocelots in the woods, but not to expect to see any. It is quite a bit cooler up here, and the hotel is beautiful. The main lobby is 3 years old and quite nice. The older parts are 30 years old. My room is LARGE with a spectacular view, big bathroom and TV and phone, refrigerator. No complaints so far. If the clouds disperse, there should be a very pretty moon tonight. We get breakfast only, so we will scout out a place for dinner.
Walked down town and got lost and wound up on the gravel road we came into town, so I backtracked and it started drizzling rain. I did not find the coffee shop I was told was good, but found Mar and Terra restaurant. The vegetable soup and cappuccino hit the spot. I took a good long hot shower when I got back to the room and turned in to get rest for the zip lining tomorrow.