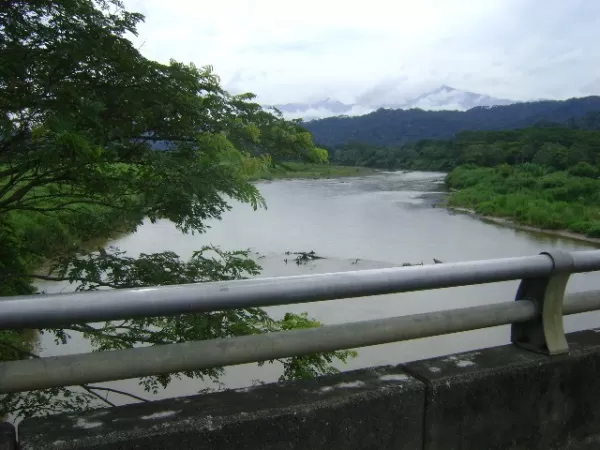 What a day. Breakfast at the hotel was great. Louise, our waiter, took good care of us. French toast, 2 eggs over easy, toast, fresh fruit and fresh mixed fruit juice and coffee! I ate it all and got on the bus to the rainforest.
First was the zip lining thru the rain forest! What a hoot!! They strap you into a harness and hook you to a steel cable stretched from towers over the canopy of trees and push you off. Well, a little more explanation than that, but not much. Everything I saw looked very stable and safe. We harnessed up, including helmet and headed up the trail. The harness is a sit down type and they hook a bid D ring up to a pulley that sits over the cable and another safety D ring as a back up. Given some basic instructions, you are off.
It was quite beautiful (and scary) zipping along above the forest. You could brake your speed with your gloved hand, or they had a failsafe braking mechanism just before you landed. I think there were 13 different zips or runs. The real problem and real work was all the walking to get to the next tower. The trail was covered with concrete type or cinder block type things with soil in the block openings. Sort of like the paving blocks you see in some driveways that allow grass to grow up in the openings. It was hard walking, plus you were carrying 30 or so extra pounds of zipping hardware. Good thing I have been taking all those health breaks, or I would not have been in good enough shape to do all that uphill walking!!
After the 13 zips over the cloud forest, the last station was optional: it was called the TARZAN JUMP. You climb up this 20 foot tower, they hook you to a couple of ropes, then push you off to swing out a very long way. The scary part is you initially drop about 8 meters before the rope gets taut, so you are freefalling for the first 8 meters. Sort of puts a lump in your throat.
Well, it was so much fun that I tried it a second time. One of the others in our party did want to partake so I took her spot for a second go at it and hopefully someone got some photos. It was fantastic.
After lunch of another hearts of palm salad and cervesa /beer, we headed to a more sedate undertaking: watching the hummingbirds!! We only have the ruby throated humming bird in North America, and down here they have 21 I believe. I will have to get my book out to identify all the ones I took pictures of. They had a big nice garden with four feeding stations and literally hundreds of different kinds of hummingbirds buzzing around. If you stand very still, they will work around and ignore you. But they are so fast you have to be quick to capture them in a picture. I have many frames of empty feeders that I will need to delete from my camera. I even took some movie of them, after I got tired of trying to capture them in still-life.
Then we took the hike over the hanging bridges. Again it seemed like it was all uphill on those pavers blocks, but the scenery was fantastic. We could hear water flowing below us, but could not see it because of the dense canopy of tree tops and foliage. I wish I knew more about the fauna and flora, but many are familiar house plants/trees, like the chafflara, philodendrons, orchids and many more. Most of the orchids had already bloomed so we missed them. But every big tree must have had a hundred or so parasitic plants growing on it. Lots of mosses and ferns on every tree. I am sure the pictures I took will not do the scenery justice. All in all it was a fantastic experience and would recommend it to everyone. Tomorrow we bus it to Arenal (volcano ) national park. Now we are trying to find supper and get to bed for our 0745 pick up and probably a 4 hour drive. Out for now at 1716/emr