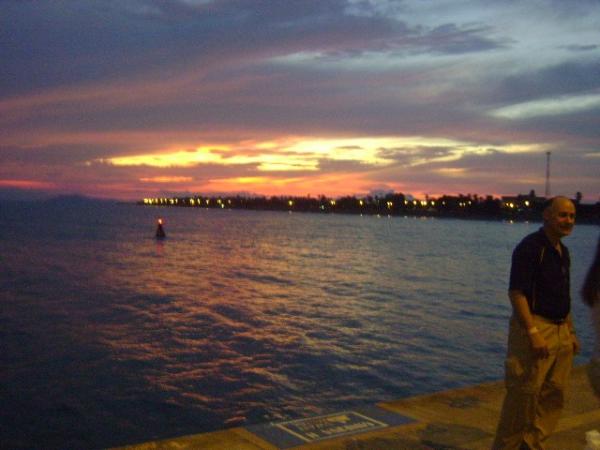 What a great day yesterday. The Manual Antonio National park guide we had was great. He was very knowledgeable and most helpful. The park is quite large and well worth seeing and the coastal scenery is spectacular. This hotel is quite nice and above my expectations. Clean, nice, good staff, good food, REAL hot water! no real complaints, except no coffee maker in the room and no phone but I can adapt. The little restaurant is alfresco and has great food! Speaking of food, I am off to breakfast before our rafting trip. More later/emr at 0643.
After I got back from rafting I got cleaned up and went do to photograph some birds at the bird feeder near the restaurant. I met one of the waiters who was off duty and the chef. Their recommendations for dinner : the whole red snapper (fresh) stuffed with shrimp, squid, clams in tomato sauce with a glass of chardonnay. I took their advice and it was fantastic. I would highly recommend the Villa Bosque hotel and restaurant for your next Costa Rica visit!! And last night was a full moon! There were some spotty clouds, but the moon over Costa Rica is beautiful. It was a beautiful night.
The waiter and chef advised me on the differences between bananas and plantains; and told me about hicamas (or Jacamas, as they call them) and their uses. Did yall know that Costa Rica produces computer chips for Intel? It represents 60% of their GDP, I am told. Someone needs to verify that, as I seems very high to me.