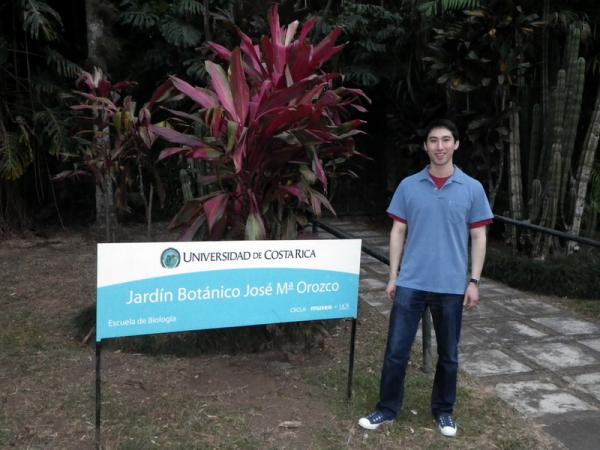 On our first morning at Selva Bananito, we were greeted by an amazing breakfast spread of eggs, fresh fruit, juice and more.
Carlos joined us and the others to talk about the possible activities for the day. We agreed upon horseback riding and tree climbing!
Jonathan led Benny and Marteen on a nature hike, while Carlos took Andy, Ursula and I to the stable to get saddled up. We had the pleasure of riding Jeffe, Foxy and Guerroro respectively. They were great, obedient horses that made it very comfortable.
We rode around the beautiful acreage that surrounds the lodge. Carlos had us tie up the horses for a short nature walk in which we saw and learned about all the amazing flora and fauna. He even found a gigantic grasshopper in the bud of one flower. Ursula had the the pleasure (?) of having the grasshopper sit upon her should for a great photo op.
We then took the horses to the stream nearby that flows into the Banananito River. We relaxed by the water for a while and then finished up our morning ride.
A generous lunch of freshly-made pasta and cheese served with Papaya juice helped beat the fatigue.
The afternoon led us over to an enormous tree near the horse stables that has ropes anchored in it. We were going to climb it.
Benny and Marteen watched and cheered us young people on as Andy, Ursula, Carlos and I made our way up the tree after being securely locked into carabiners and harnesses and helmets.
We actually did not use the tree to climb, but instead a rope system with two metal grips that we cinched up the rope to get to the top. After some encouraging from Carlos, who told me his grandmother climbed faster than I did, we made our way near the top - a 100 feet off the ground.
With feet back on the ground, we celebrated with a much-welcomed beer and a nap in the hammocks.
Before dinner, Carlos had one more treat in store. He led the whole group of us in the dark to go frog spotting. He found with his flashlight a picture-perfect green tree frog with orange toes. It reduced the group to child-like wonder.
We enjoyed another meal together of fresh ham, mashed potatoes, zucchini and cabbage and guava juice.
It was a great day and I easily fell to sleep after all the excitement.