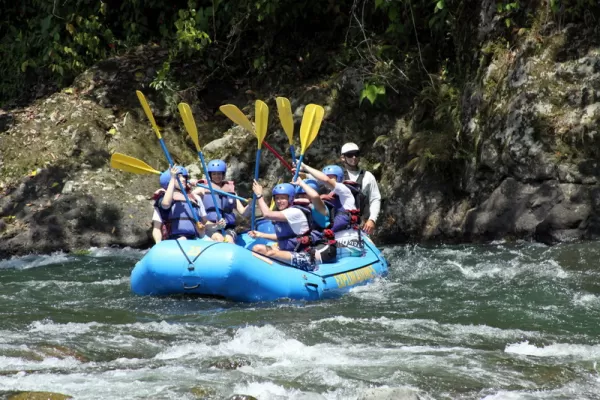 Andy and I had no clue that on Day 6 of our adventure what an amazing excursion lay ahead of us with Gambit Tours in Bocas.
A rep from the company met us at our hotel and escorted us to their office. From there, we joined a boat full of excited passengers and started cruising along the local waters.
The boat first stopped for some dolphin spotting and we absolutely succeeded. Dolphins came right up to the sides of the boat and we all had to resist jumping into the water to swim with them.
Next we pulled along a little island of foliage, where bright orange star fish decorated the ocean floor.
It was then time to finally get in the water and snorkel amid the fish and corral. Another first for me and I enjoyed the close-up encounter. I think I even found Nemo!
A stop on a nearby island allowed everyone the chance to get some food and rest. There was a small colony of bright red parrots that walked right up and around all of us with our cameras. They got an applause of oohs and ahhs.
Andy and I thought the tour might be over but the adventure continued as went to the gorgeous Red Frog Beach. Near where we got off the boats, we spotted a sloth in the trees. Then after a short walk, we had the chance to enjoy the amazing views and swim through the waves were. A great unexpected finish to the tour.
After a much-needed rest and freshening up, we hit the town and walked a few blocks to La Casbah for a Mediterranean-inspired menu. We had fun chatting with some Americans at the table next to us and enjoyed the food. The house wine was an admittedly bad choice but everything else, especially the gazpacho, was awesome.
We shouldn't have bothered with the wine there because our next stop was The Bocas Wine Trading Company and Lounge (aka The Wine Bar). We sampled three nice red wines on their amazing second-floor deck that overlooked the main street and offered some excellent people-watching.
I had to finish the evening by having a Bocas brownie topped with vanilla ice cream at our hotel bar. Its made with local chocolate and was as decadent and delicious as it sounds.
After another action-packed day, I easily fell asleep with pleasant dreams of our next stop - Panama City!