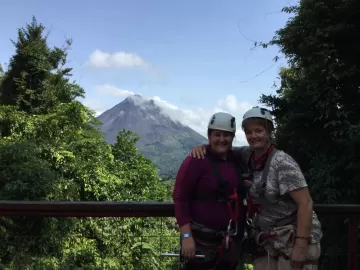 Costa Rica is probably one of the most tourist-heavy countries in Central America. Because of that you've probably heard a lot of opinions about where to go and what to do. I decided to go on an epic Costa Rica adventure, touring at break neck speed so that I would have a better idea of what felt more touristy and what were those hidden gems that people might not know as much about.
From my experience here are my top picks based on the places you've heard of and where you might want to go instead:
You've heard of Tortuguero, instead go to Pacuare Nature Reserve. If you really, really want to see turtles I am bummed to inform you that Tortuguero is not the BEST place in Costa Rica to see them, even though it is touted as such. I got super lucky with the baby turtles, but most of the time people just don't see them. For a better shot, head to an actual research station like Pacuare Nature Reserve. Also make sure you are traveling during turtle season. There is some conflicting information about when the season actually begins and ends but your best bet is summer.
You've heard of Monteverde, instead go to Savegre. This lesser know cloudforest to the south was only discovered 60 years ago and it has been well preserved from day 1. That means fewer tourists and more wildlife, especially birds. I saw multiple Quetzals with minimal effort.
You've heard of Manuel Antonio, instead go to Ballena. Only an hour further south on the Pacific Coast, Ballena has way fewer tourists visiting on a regular basis. The beachy, surfer town of Dominical is a great spot to spend a few lazy days and there is fantastic whale and dolphin watching in Ballena National Park. Snorkeling isn't the incredible clear waters of Belize or the Caribbean, but still nice.
You've heard of Arenal, instead go to... Arenal! I enjoyed Arenal. Yes, it is touristy, but the zipline was incredible, the hot springs at Ecotermales was relaxing and it was nice to have full amenities like AC and wifi for a few days. I think it is worth taking a few days to head up here if you have the time.