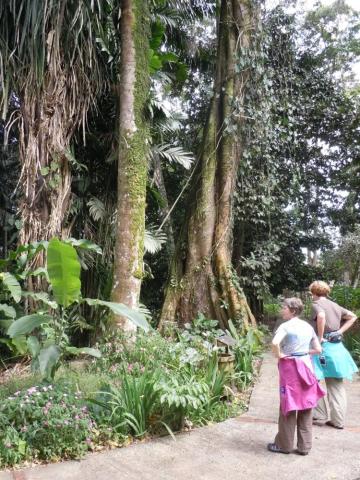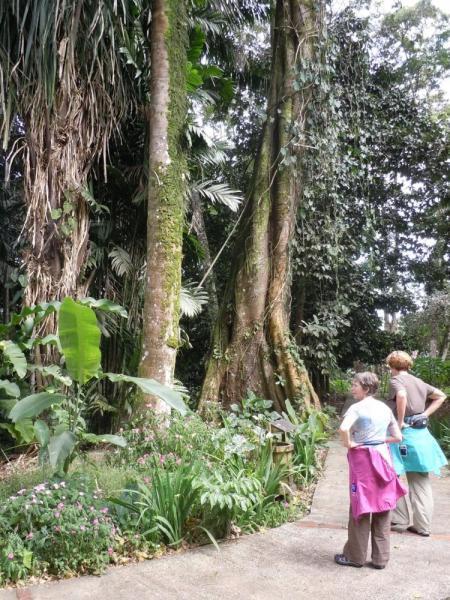 We embark upon another full day; not to be outdone by the day before. We headed south and west leaving the rainbows of Monteverde behind, and traveled into the drier regions within sight of the Pacific Ocean. Cynoches took the place of Pluerothallids; Palms for Heliconias. Bougainvillea sprawled over rooftops and fences.
Along the way, we stopped to stretch our legs and walk across a bridge to see huge crocodiles sunning themselves on the sand bars. Our next stop was at the Carara National Park to see orchids (of course) but also Macaws. Our guide took us along the path, pointing out various sights (and we pointed to the orchids). Carara was a great bird-watching spot and we saw a nesting Macaw in the hollow of a tree preening itself.
Then, to the beach – la playa. After settling in our rooms, a sunset walk to the beach was in order. The deep hues of orange played with the contrasting deep blue of the water and flat black silhouettes of the rock outcroppings. The water of the Pacific was warmer than we expected and we vowed to return the next morning when we spotted pelicans roosting on the rocks and cowries and cone shells in the tidal pools. A quick stop on the way back to listen to a band at a local outdoor bistro and then a delicious dinner at Hotel La Playa Espandilla followed by an evening swim in the pool finished the day.