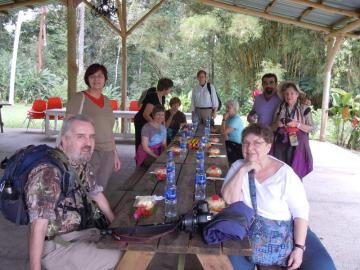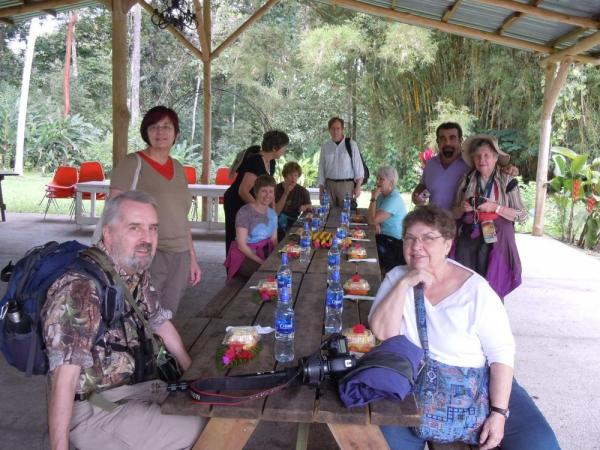 After an early morning walk through the forest and a sighting of Miltonia powellii in bloom, we embarked for Arenal Volcano and environs. Soon, we would take on the challenge of the Rio Celeste hike. Along the way, we stopped at La Fortuna, a small town on the outskirts of Arenal and spent some time in the town square with the local church and many souvenir shops ready for those orchid hunters eager to spend some colons on new treasures (and orchid books!). After lunch, we arrived at our hotel, Lomas del Volcan, taking much more time than needed to drive there as we had Diedir stop the bus several times to view the orchids along the roadside trees and living fences that span the countryside. But what fun to be able to say: "Stop the bus" and jump out and explore just what may be growing on that tree.
Some of us added a trip to the 1968 Arneal Lava Flow Trail and we were not disappointed! New orchids such as Cynoches warscewiczii, to see as well as birds and monkeys! Everyone loves to see the monkeys. We came to recognize monkey signs of fallen bromeliad leaves along the trail signaling that a troupe had passed by. Good thing they were not eating orchids!
The hotel was lovely and accommodating as we had come to expect in this hospitable country. A tree frog graced our cottage though attempts to find and see it left us unfulfilled but its intermittent chorus assured us it was there! A private sitting porch in the back of the cottage allowed a great view into the adjoining forest and abundant birdlife.