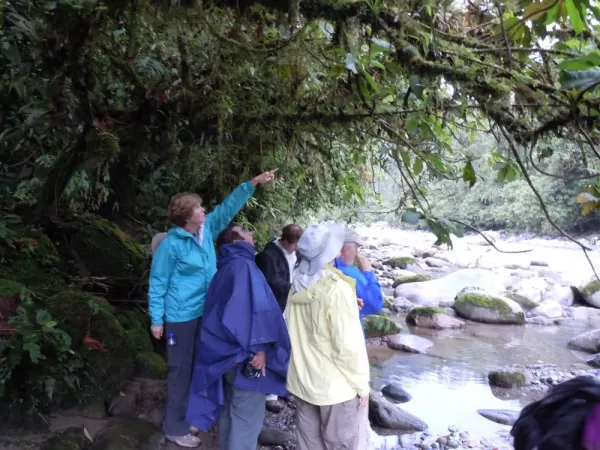 Early the next morning, the group assembled in the lobby; some of us meeting for the first time. By that evening- we were thoroughly enjoying the camaraderie of our first dinner together joyfully sharing the events of the day!
You see, we started our tour at Lankaster Gardens - a mecca for any devoted orchid lover and there, a virtual rock star of the orchid world - Robert Dressler - happened to stop by and join our group for a few precious hours. Amidst the acclaims of: "Look at this" in the orchid collection and in the beautiful gardens, our group started bonding together. The Lanskester Orchid House boasts thousands of orchids of all sorts. Pluerothallids as big as beach balls foretold the marvels we were to see on our trip.
And if that wasn't enough for a day's travels, after a wonderful lunch (one of many) with the natural fruit drinks, rice and beans, fresh fish and other offerings, we headed to Tapanti National Park to get our first real taste of the central volcanic valley rain forests. Lepanthes at the water's edge - ferns bigger than our imagination (or so we thought at the time) and epiphytes dripping off every tree! It was like walking in an enchanted forest as the day waned.
At sunset, with dusk cast over the hillside of Turriabla Volcano, we arrived at Guayabo Lodge with its own orchid garden and huge hedges of hydrangeas along the walk-ways. It rained overnight and at dawn, the gardens glistened with diffuse light playing off of the early morning mist.