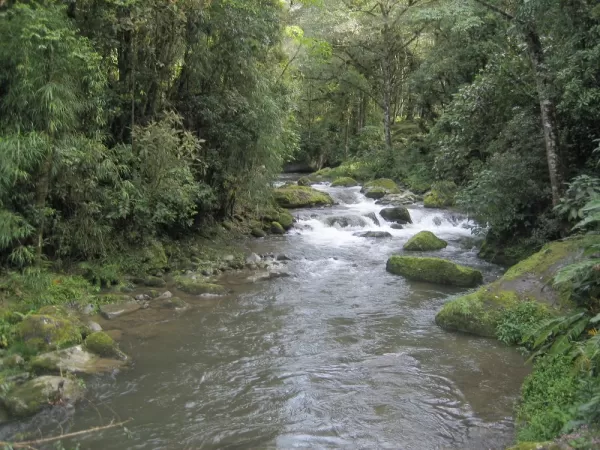 This morning, Marco and I woke up early to go visit the Cloudforest Reserve. We arrived a little bit early, but made sure we had time for a stop for our café con leche in town. We patiently waited in the chilly morning air waiting for the park to officially open. When we were permitted to enter, we began to walk along the very wide trails, trying to learn the balance between watching where we were stepping, and trying to watch the swath of green on each side for any movement from an animal. On the whole, we really only saw some birds that were a bit fascinating, and plenty of green plants, but as neither of us were trained in the different species, it all looked for the most part the same to us! We walked around in a loop, and included a stop at the Continental Divide. Looking over the edge of the lookout to see only thick clouds that obstruct any sort of view, I shrugged my shoulders, and we decided to return. I guess that is why they call it a cloudforest!
In the afternoon, we went to the Aventura Canopy tour, where I was fitted into a harness and joined a group of other tourists to embark on an amazing system of short and long cables throughout the canopy. The main purpose of a canopy tour, is to get up high in the forest canopy to increase your likelihood of seeing the wildlife that predominantly live this high up. The problem with this theory, however, is that on a zipline tour, one is so preoccupied with the thrill of the ride that they have next to no time to look around for birds or animals! The ziplines were so fun, starting small and easy, and working their way up to one of the longest I have ever been on -- it seemed like it took minutes to finish the last one! The entire tour consisted of 16 cables, and one rappel off a platform (where the guide decided to play a trick on me and drop me suddenly without warning)! He had control over the speed the whole time, I think that they just wanted to hear me scream. The tour also include what they call a Tarzan swing, which is where the person jumps off a 15 foot high platform (this is just my estimate) and then the rope catches you and swings you out and then back. This is probably the closest I will ever come to bungee jumping, but it was fun to try!
After our adventures, Marco and I stopped by the Amish cheese Factory and got some ice cream, the best that I had the entire time in the country! Then we returned to the hotel for dinner and then some much needed sleep.