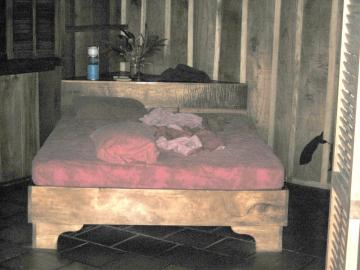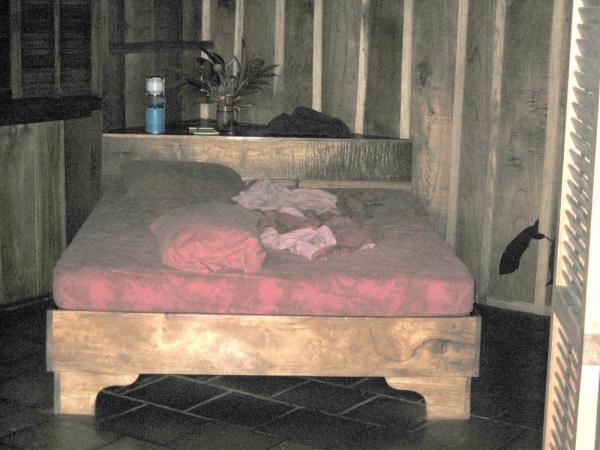 This morning we woke to a crisp mountain morning, and yes, still cooler weather than I had expected. We went to dining room for a delicious breakfast with fresh fruits, eggs, gallo pinto, and coffee. After the feast, we headed to where the horses were tied to go on a brief ride to a nearby waterfall. We rode on trails through the forests, admiring the beautiful river rushing to our right as well as the sounds of the birds overhead. The trail was very muddy, a feature that I guess is common in a rainforest where it rains often! We left the horses in a clearing before continuing on foot. Our path took us across a bridge -- then we crawled down to a huge boulder on the side of a large waterfall along the river. The interesting thing is that you would not even see the waterfall without crawling down below. The water mysterious seems to simply disappear into nothing and miraculously reappear 8 feet down.
After attempting to take a few photos that did not turn out very well due to the spray of drops on the lens, we went back to the lodge where I quickly packed to continue on with my travels. The drive the rest of the way was very pleasant, and we arrived to the hot Pacific coast area right around the height of the day's heat. It was quite a shock from the cool temperatures at Savegre. We continued south along the coast to visit some lodges and hotels in the area, before finishing up at La Cusinga, our point of rest for the evening.
La Cusinga is located on a bluff overlooking the ocean with some of the most breaktaking views I had seen yet. The covered common area is located on an outcropping, and the open-air structure allows for an almost complete 180 degree view of the ocean and the beach along the coast. I explored the grounds a bit, and took the quick 15 minute walk down to see the beach that the lodge has direct access to. I enjoyed a great dinner prepared by their own Chef Dave, brought in from San Francisco who puts together amazing meals! After dinner, Marco and I decided to relax in rocking chairs while watching the sunset over the ocean.what a spectacular treat that was! It is a shame that my camera was not better able to handle the image, as no matter how many different ways I tried to change the settings, it just was not able to fully capture the colors and the beauty of the real thing.