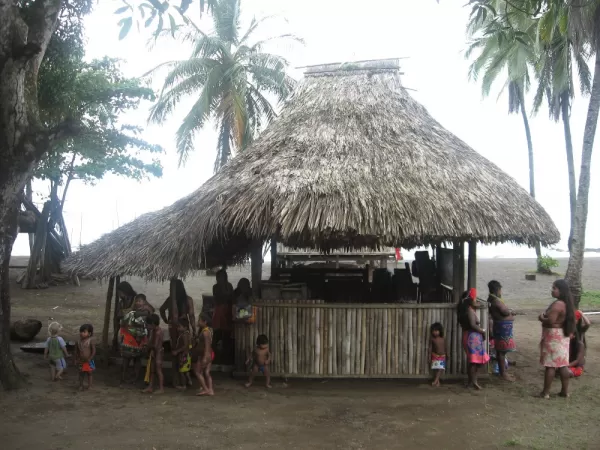 Number the positive comments that I have heard about Matthew in the dozens now. We had a wonderful morning visit to the Embera people of the Darien Jungle (located in southern Panama, near the Columbian border). The villagers greeted us in brightly colored skirts and loin cloths and the kids of the village quickly surrounded my fair-skinned, blond two-year old. Matthew became the Pied Piper, leading a group of a dozen children everywhere we walked in the village. He delighted in playing with the black sand on the beach and giggled as the children entertained him with their antics. They gave him a marble, showed him a giant medicine ball (and rolled with laughter as they watched him try to lift it), and had him hold a stick with a live parrot on it.
This is the third time that I've experienced the great joy of traveling overseas with toddler-aged children - there is no language barrier at this age! Matthew was used to not understanding others or being understood so he interacted with the children as he would with old friends. He didn't hang back, as the adults did, unsure how to begin interactions without the crutch of common speech. Consequently, Matthew was our ambassador, linking two distinctly different cultures through the shared language of child's play. It certainly didn't hurt that he was so very blond and fair. He was a novelty to these children, all the more entertaining because he played as they did but looked so different.
The village itself was composed of thatched huts on stilts and a small concrete common building including a school and clinic. Kids at school wore the traditional Panamanian uniform (white shirt and blue skirt/ slacks) while the children who were too young (or too excited by the boat arrival to go to school) played topless in very little clothing.
I hadn't been looking forward to this visit, as I hate the thought of a large boat arriving and demanding an "authentic native performance" in exchange for a boatload of tourists eager to purchase souvenirs. However, I was very impressed by the day as a whole. Yes, they did perform a native dance for us, but it really felt like a celebration for all. The Pacific Explorer is the only boat that stops at this village and it only stops a few times a month during the short cruise season so it really is a special holiday celebration for the locals as well. They seemed to look forward to the novelty of visitors and were excited to share their traditions with us (rather than feeling as though they were performing on demand).
Our guides were also impressive in that they did not try to pretend that this remote village lived a purely traditional lifestyle. They explained quite honestly how the villagers' lives were a mix of native traditions and modern conveniences. Their clinic and school were both simple, but could easily have been located in a suburb of Panama City without looking out of place. However, in many ways, their lives were still based on the traditional, self-sufficient, subsistent economy that had existed for hundreds of years. The sport of soccer perfectly embodied this mix of traditions. Each village had a soccer field and the villages competed against each other, just as two modern towns might. The difference, however, was that village boys would hike sometimes a full day to reach the next village for a competition. Because of the distance and the difficulty getting there, soccer matches were a big occasion. After the match, traditional feasts and dances were often held. This allowed villagers from different areas to meet each other and offered a great way to promote intermarriage, diversifying the gene pool and developing common bonds between areas.
This cross-village cooperation was important, as well, because the area that they lived was unfortunately quite dangerous. Just outside the village, we saw a Panamanian police officer (they don't have a national armed service) with a machine gun. He lived in a fully fortified barracks, complete with satellite TV. His job was to protect the villagers from outside threats. Unfortunately Columbian rebels had historically raided villages such as this one, kidnapping young boys for armed service, stealing food, and taking advantage of the women.
The villagers were usually safe while at home, but faced threats while traveling for soccer matches or going to the nearest towns to sell their handmade baskets. We did have a chance to purchase souvenirs while we were there, in this way delaying the need for them to travel to sell their goods at least a bit longer. I gratefully bought a few souvenirs and paid a lovely ancient looking woman $1 to paint a black temporary tattoo on my ankle using ink in a glass Coke bottle. The villagers themselves all had tattoos, often covering most exposed areas. These tattoos were used for decoration but also served the duel purpose of protecting their skin from the sun.
Back on the beach, Matthew spent nearly an hour playing with the older (maybe age 5-7) boys in the sand. They painted their faces with sand to make him laugh and had crab races down the beach. These interactions were particularly fun to watch as most of our visit, it had only been the girls and very young boys who played with Matthew. The older boys looked on from the sides, obviously curious, but apparently too firm in their gender roles to interact with a baby. It was not until they were alone, separated from the adults, girls, and younger boys that these older ones had the chance to satisfy their curiosity and play with the unusual looking blond boy who had appeared on their shore.
Matthew loved being one of the big boys. He also delighted in sitting where the tide would wash into him and he could dig his fingers into the sand. When it was time to go, he screamed and kicked, reminding us that he was only a two year old and had found a place on this trip where he felt right at home.
By the time we headed back, the tide was coming in with such force that our zodiacs could barely get moving against the crashing surf. We returned to the boat for another incredible lunch and a quiet afternoon enroute to our next stop.