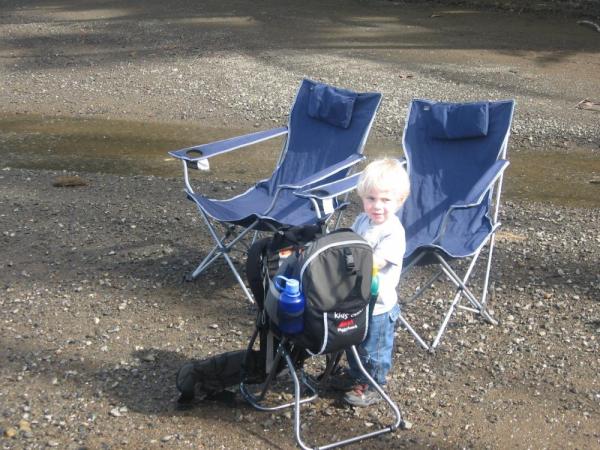 We woke at leisure and enjoyed our complimentary breakfast of eggs, fruit, toast, and cereal. I left the door to our room ajar and plugged in a baby monitor. Halfway through breakfast, Matthew slipped out of bed and toddled charmingly into the outdoor restaurant wearing only a diaper.
He turned down everything except plain toast. However, still hungry, I eventually talked him into watermelon and even papaya. Finally, he polished off the eggs and seemed much happier with a full tummy. Score one for traveling to broaden the food preferences of a picky toddler!
After breakfast, we walked down a steep forest path behind the hotel, past a school, and to a playground thickly covered with moss. Matthew delighted in the slide, merry-go-round, and swings despite the soggy ground and mud surrounding everything.
Back at the hotel, I tried unsuccessfully at least a dozen times to use my calling card. The phone was working fine, but the MCI operators were no help at all. I later learned that international phone cards purchased in the US do not work well in Central America as many phone providers there block access for any cards except those purchased locally.
I finally gave up and caught our taxi to the Sheraton to drop off our bags and meet our boat group. With a few hours to spare, we walked to a mall ~ 3/4 mile from the hotel. We could have been wandering any mall in the US except for the food court that had a lovely mix of local specialties in addition to the typical American fare. Aside from the menu, the food court was distinct because it offered a huge indoor playground complete with a variety of interactive coin-operated toys such as a merry-go-round, miniature pony ride, and a Noah's ark ride that had 8 different animatronic animals that moved and made sounds when you pushed a button corresponding to the picture of the animal.
With such an engaging selection of activities, Matthew didn't bother with eating but played steadily on the games while my mom and I enjoyed the local fare. My mom ordered steak and fried plantains and I had the grilled chicken tacos. They were incredible with fresh, grilled tortillas and melted cheese. I mistakenly told my mom that the "queso fritas" were "cheese fries" when they were actually "fried cheese". Oh well, they were tasty either way!
Matthew cried when we finally had to pry him away from the games to meet the boat group. In fairness, he was also rightfully exhausted as it was an hour past his naptime with no convenient place to lie down. As nice as the Hotel Albrook was, next time I think I would book the same hotel as the rest of the cruise group. The rates were much higher at the Sheraton, but it would probably be worth it to have the convenience of a late check out and the simplicity of being with the rest of the group.
Back at the Sheraton, we boarded the bus for our drive to the port. Enroute, we had a short Panama City tour. Much of the city is under construction as skyscrapers are rapidly filling in space previously allotted to individual homes. The mall was all new construction that had replaced the old airport and runway space downtown.
Once at the port, we waited in a short line to embark, handing over our passports and verifying our cabin assignments. We relaxed in our cabins while we waited for our luggage to appear, then went up to the sun deck for a safety briefing and snacks.
Dinner was served in the dining room with a choice of three entrees and all the accompaniments. Matthew got a bit restless after an hour of leisurely dining so I took him back to our cabin for an early night.