Why Nicoya Peninsula?
Like I mentioned in another post, one of Jordan's dreams has been to SURF in COSTA RICA.  So, when we were planning this trip, one goal was to make this dream come true.  We were told that the Pacific side of the country is THE PLACE to surf.  Nicoya Peninsula, here we come!
From our resort in La Fortuna, we bid farewell to Arenal Volcano and started west.  
It was a beautiful tour through scenery of rolling hills, flowers, quaint towns, and bright green world contrasting with a bright blue sky.  It was a breath-taking drive!  It was also winding.  That might actually be an understatement.  Perhaps spiraling is a better term?  If driving in Costa Rica, be prepared for twisting roads, MANY one way bridges (which STILL baffle me!), and even MORE potholes than one way bridges!  But also prepare yourself for gorgeous vistas.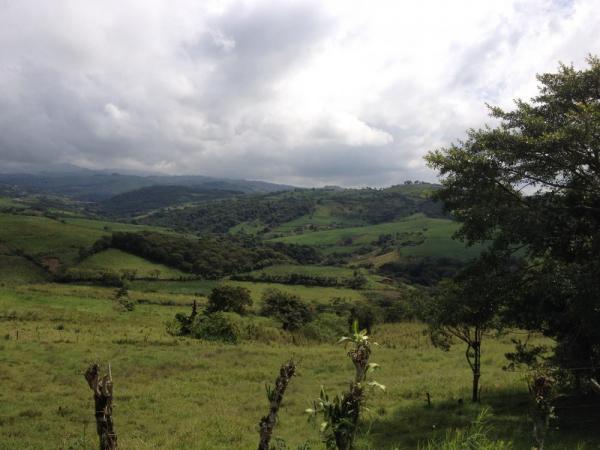 Fantastic views from our drive from La Fortuna to Nicoya Peninsula.
Journey to Puntarenas ferry terminal...
It took about 2 hours to get to the port town of Puntarenas.  Much could be said about Puntarenas, but I will choose to refrain.  One conclusion I came to upon entering the city was that I sure was glad we were getting on a ferry at 2:00 PM.  Just enough time to get some lunch, fill up the rental car's tank, and get to the ferry terminal an hour in advance.
We decided to go straight to the ferry terminal just to check on things and make sure we had all the correct details.  The news to us was that we did not.  Apparently, for a couple months during low season the ferry runs a different schedule than the one we had.  There was no ferry at 2:00 PM.  We were stuck in Puntarenas until 4:00 PM!  
It could be worse, and we made the most of it - got a ceviche lunch and watched fishermen on the shore.  It could have been worse.  Just let this be a lesson to check the ferry schedule because Puntarenas is not really a place you want to be for an extended amount of time.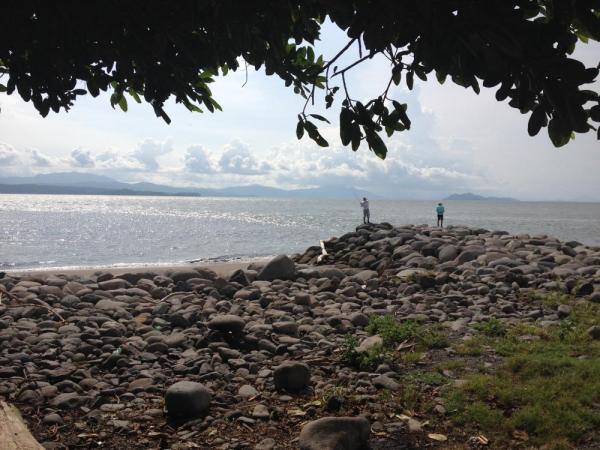 Watching some fisherman on the shore in Puntarenas.
Finally...time to board our ferry!  It was a fun experience once we were on the Tambor III chugging across the Gulf of Nicoya to our final destination.  Sitting on the top deck with the salty wind blowing all around was pretty fantastic!  Just 45 minutes on the ferry, and we would almost be at Tango Mar!
The Tambor III ferry.  I was impressed!
Arriving at the ferry terminal of Paquera.  Cars waiting to disembark.
Tango Mar - Finally!
Our Hyundai Tucson zipped along the roads that were, you guessed it...twisting and filled with, you know what...potholes.  It was getting dark, and our resort proved a bit more complicated to get to than we had anticipated.  Around 6:00 PM, we arrived at Tango Mar Resort, and I don't think either of us could have been happier!
After checking in and throwing our stuff in our suite, it was time for dinner!  Priorities, you know?  The resort has a fantastic restaurant, and that is a very good thing since you are in a fairly remote location.  The huge dining room is open air under a thatched roof, so we could feel the wind and hear the waves.  We had a delicious dinner, some good laughs, and some pleasant conversation with the excellent waitstaff.  We also had the pleasure of meeting the owner of Tango Mar, Hilda.  We got to know this energetic woman who fell in love with Tango Mar and moved to Costa Rica from Belgium over a decade ago.  She actually took us on a tour of the entire grounds the next day!
Jordan brushing his teeth on our balcony.  Our first view from Tango Mar in daylight!
Dream fulfilled!
The next morning we awoke to the sounds of breaking waves that we could actually see!  Given multiple options at breakfast, neither one of us could stray from the "comida tipica", or typical Costa Rican style meal.  I believe I was becoming addicted to plantains at this point.
We explored the beach for a little while, and remembered how great it feels to have sand between your toes and warm waves crashing into your body.  Montana is not well known for its warm beaches...
Now back to how this story began.  Jordan wanted to surf.  So that is just what we did.
We made our way to Playa Carmen where we met up with Ben, our surf instructor.  You can read all of the details of our experience in my "Adventure Abounds" post.  To sum it up:  Jordan was a fantastic surfer, and one item on his bucket list was checked off.  I am NOT a fantastic surfer, but I am glad I can say that I tried.
Finding coconuts on the beach at Tango Mar.
Endless beaches.
Removed from the world.
The remainder of our time spent at Tango Mar basically went like this:  Eat great food, lay buy the pool, hike around the grounds, eat great food, spot a big iguana, take a swim, order a poolside drink, let the waves crash against us, lay in a hammock on the beach, play a game of open air billiards, eat more great food.  It was vacation at its finest!
The open air lobby of Tango Mar had a billiards table and then led to the dining room.
Laying by one of the multiple pools.
Tango Mar pool.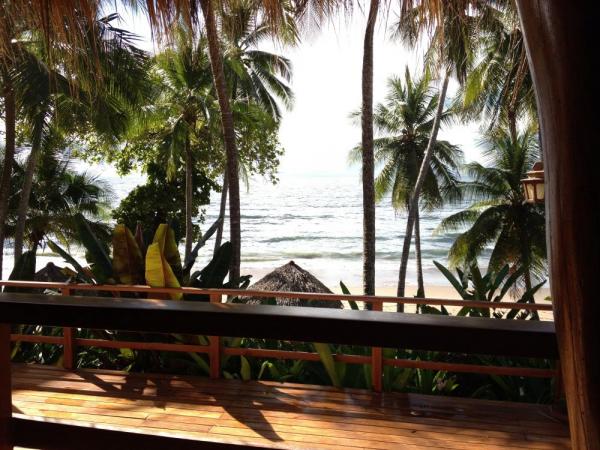 View from our breakfast table.
Watching the sunset from our hammock.