Adventurous spirits!
I already wrote about our Pacaure River rafting trip in another blog post.  However, it was so awesome, that I think it deserves to be mentioned again.  You should not go to Costa Rica without taking on the Pacuare...you will NOT regret your decision.  
But besides the rafting trip, Jordan and I participated in some other fantastic adventures!  On our second full day, we had a canopy tour planned with Pozo Azul.  This operator is so fantastic!  Our guides were extremely knowledgeable (we learned about every plant and animal we encountered), passionate about what they do, and super friendly.  Octavio and Ronaldo went out of their way to give us memorable experiences - like finding tarantulas, blue jean frogs, and the iconic red-eye frog for us to see up close!  We also learned about their backgrounds of coming to Costa Rica from Nicaragua and how fortunate they feel to have the opportunity to share with others how they believe Costa Rica is great.  It's amazing how you build relationships with people while soaring through the air from tree to tree.
The canopy tour consisted of nine ziplines high above the jungle floor.  It was fantastic - like flying!  The finale was a 900 meter zipline OVER the Sarapiqui River.  Thrilling!  
After we permanently landed on ground, we had a pleasant lunch at the restaurant on site.  Our meal of fried local tilapia, plantains, fresh mango juice, and coconut flan was enjoyed on a balcony overlooking the Sarapiqui and swarming with vibrant hummingbirds feeding on the flowers nearby.  It was awesome getting to watch them flitter around - fascinating creatures!  Not to mention GORGEOUS creatures.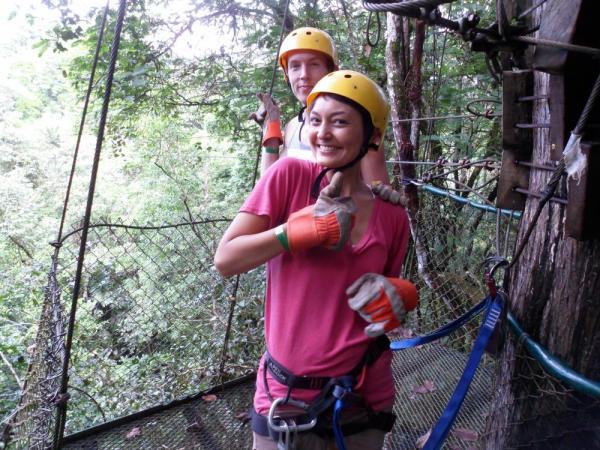 Having a blast on the Canopy Tour!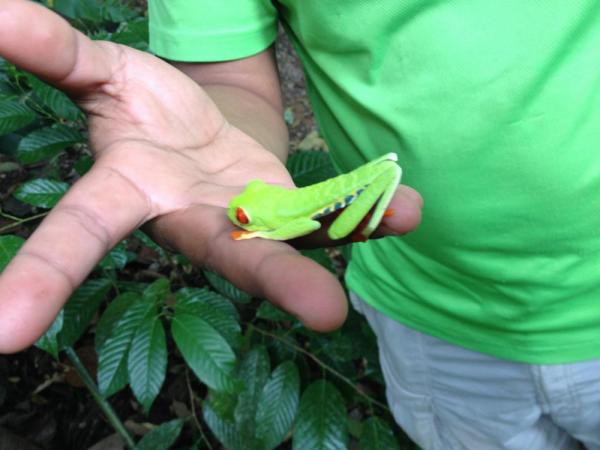 Our guide showing us a beautiful red-eye frog.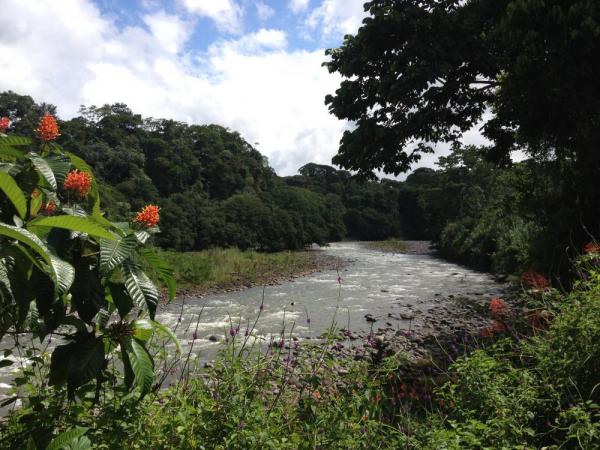 Our view from lunch at Pozo Azul.
Rappelling over a what?!?
The next day brought a new activity.  How does waterfall rappelling sound??
It might actually sound crazy, but it was SO MUCH FUN!
Basically, we were taken into the jungle, we harnessed up, we hiked deeper into the jungle, then we received our briefing.  I must say it is a bit unnerving.  As much as I tried to pay attention, all I heard was "lay horizontally over the ledge" and "let go of the rope" and "165 foot drop".  You know, the important details.
It truly was exhilerating, and after the last of four rappels I wished there were more!  You are in total control of how far and fast you fall, and the guides are constantly regulating the ropes and completely prepared to assist you if necessary.  Therefore, it was controlled enough to be safe, but adventurous enough to be THRILLING.  And bonus:  it was beautiful hiking from waterfall to waterfall!
One of the four waterfalls our group rappelled down.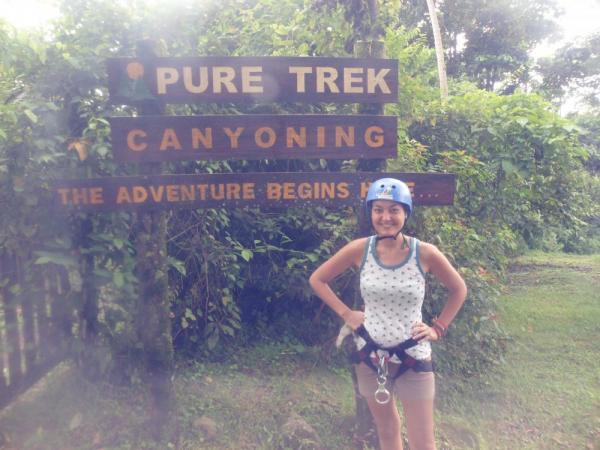 Survived waterfall rappelling thanks to the Pure Trek operator!
Surfing USA...or Costa Rica in this case...
Hang Ten!!  "Caida Diez!!"  Actually, I am not sure if that is what they say in Spanish.  Our surfing instructor was from Australia...
Regardless of what the phrase is, what surfers SHOULD be saying is "Hang On!!"  Enough said about my surfing abilities.
Actually, I did great the first time out in the open water after our short session with Ben, our instructor.  I watched for the wave, started paddling, got my feet on the board, stood up, and I was SURFING!  Beginner's luck, apparently.  Each time after that, I would get my feet on the board, stand up, then crash into the water.  After about 1.5 hours of that, I decided surfing is not my forte.
Fun experience nevertheless!  And one of Jordan's dreams come true - to surf in Costa Rica!  Playa Carmen, where we surfed, is located in the area best know for surfing in the country.  Surfers were everywhere along the beach.  So, I would say our experience was authentic and probably fairly challenging for first-timers.
Jordan has a background of skateboarding, so I think that helped him out a lot.  He was naturally awesome at surfing!  I thought my sixteen years of ballet would be advantageous, but alas...I have concluded I should stick to dancing.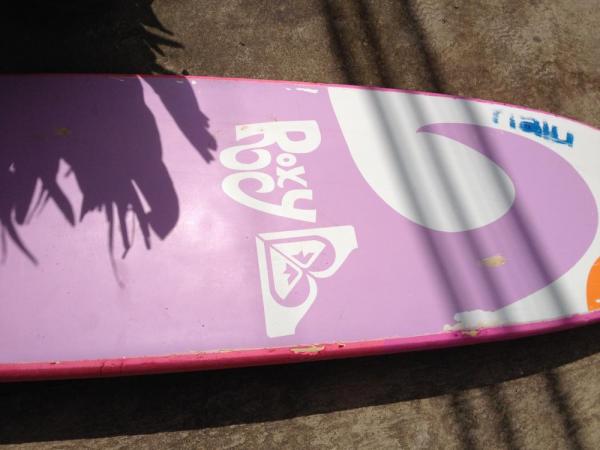 My ride for the day.